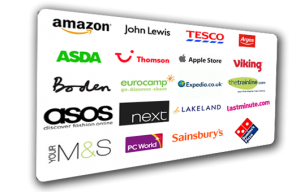 As part of our '5' themed blogs celebrating reaching the £5million donation milestone, we wanted to delve into the kinds of things you can buy via easyfundraising.org.uk and raise a donation. So with that in mind, we recently posed this question on Facebook:
"We're looking for inspiration for a blog post for 5 things you didn't know you can buy via easyfundraising – can you suggest something?"
Our Facebook friends, who always love a challenge, quickly came up with more than 5 things – in fact we were inundated with suggestions on Facebook and by email!  Here's just a selection of things our members have raised money through buying:
OK, so not strictly 5 things, but here at easyfundraising.org.uk we pride ourselves on having a wide range of retailers to shop with. Which means that whatever you want to buy, you're sure to be able to raise funds when you buy it!
In fact, two fundraisers summed it up beautifully for us:
"I haven't found anything yet that I cannot buy through one retailer or another!"
Karen Phillips
"I didn't know I could buy everything I want and need to help my fundraising goal!"
Elisabeth Cunliffe
Well said ladies!
Something you've thought of that isn't on our list?
Then share it with us! We're always intrigued to find out the things our fundraisers are buying to make a real difference to good causes across the UK!
Share your purchases below!