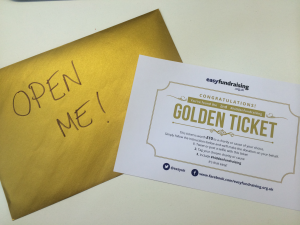 Starting today (August 18th) easyfundraising will be hitting the streets of Manchester with a special selection of golden envelopes. Each envelope contains a donation of up to £50 for a charity or good cause you care about; all you need to do is find them!
For two weeks, our team will be taking the #hiddenfundraising campaign to Manchester, hiding gold envelopes across the city for you to find. From Spinningfields to the Arndale, they could be anywhere.
Keep checking our Facebook and Twitter for clues on where to find our gold envelopes. Your donations could really make a difference, so watch this space!
Do your bit with #hiddenfundraising
As dedicated fundraisers, we're always looking for new ways to help others. Each year we work with over 2,700 big name brands to raise money for deserving causes. We've currently reached over £7 million in donations and can't wait to see this total get even higher.
If you're in the Manchester area, keep your eyes peeled. A little flash of gold could be one of our special envelopes!
If you're lucky enough to pick up one of our donation envelopes, tweet about it with #hiddenfundraising. We'd love to hear who you're helping out.