The second in our series of guest blogs from the intrepid Aim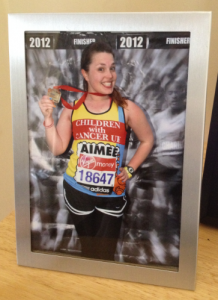 ee (@JogOnAimee) who is running the London Marathon for the second time!
"Taking on a marathon is no easy feat particularly if your race falls in the spring.  A springtime marathon means the bulk of your training has to happen over the coldest and darkest months.  Plus you have to factor in Christmas and New Year celebrations.  You'll need some serious willpower to drag yourself away from the family tin of Quality Streets and to lace up your running trainers if you're going to add miles to your training bank.
"If, like me, you have a charity place you have another challenge on top of your training:  fundraising!  The targets set by the charities are usually around the £2,000 mark so unless you know a lot of very generous people you're going to have to organise a number of events to ensure you hit your target.
"My top tips for fundraising events would be:
Start early!  If you've got a big target to reach the earlier you start fundraising the better.  You don't want to be near the deadline and feel like your target is unreachable.
Don't be afraid to ask… everyone.  Friends, family, colleagues, suppliers, clients, the land lady at your local.  You'll be surprised at how generous people can be.
Mix it up!  Ask for sponsorship but also organise events, sweepstakes and bake sales too.
Nearly everything is a fundraising opportunity.  The new X Factor series?  Organise a sweepstake.  New Year?  Sell healthy snacks in the office to support your colleague's resolutions.
Be creative!  The best events are those where I've gone all out.  Don't do things by halves!
You can also raise money for your marathon, bike ride or other challenge by shopping online with easyfundraising.org.uk. Encourage your family, friends and colleagues to do the same and watch the funds mount up!
"I wanted to kickstart my fundraising for the London Marathon with a big event and I wanted to do so before the New Year.  I wanted something simple to organise that would still give me a healthy amount to add to my fundraising total.
"I decided upon a pub quiz because everyone loves a bit of trivia especially when combined with a beer or two.  I found a local pub where the lovely events lady let me hire their back room bar for free which seated 80 people!  Always mention that your event is for charity because people are much more likely to throw in things for free.
"I managed to raise £418.70 in total from the quiz night.  I'm not sure how I ended up with the 70p as I asked everyone for a £5 donation to participate!  I think someone was being a little bit naughty when we were collecting the money.
"All in all, the night was a success and has put me over the £600 mark for my fundraising.  Only £1200 to go!  I feel relieved that I started fundraising early so I won't have to raise the full amount in 2013.  I'm looking forward to organising my next event though!"
You can follow Aimee's progress on twitter – @JogOnAimee