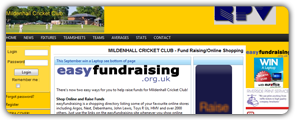 Mildenhall Cricket Club in Suffolk caters for all ages, from 7 to 70. They run six senior sides at the weekends, plus a midweek team and a Ladies team.
We've awarded them the title of Website of the Month as we really liked the way they update their site each month to show our latest competition.
Promoting easyfundraising on your website can really help your cause raise funds as your supporters get a reminder to shop online every time they visit your site. Take a look at Mildenhall's site for inspiration and if you are the Administrator of your easyfundraising account, you can find lots of useful tools to create a really good website in your Admin Area (admin login required).
If you'd like to be our Website of the Month for November, tell us why in the comments section below.