Would you like to know which easyfundraising retailers you can buy a fridge from, or an ipod, TV or pretty much anything?  Then easysearch has the answer!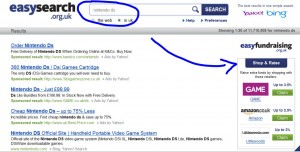 Simply enter your search term such as 'nintendo ds', 'ipod', 'lawnmower', 'handbag' etc into our fundraising search engine, easysearch, and the top 4 retailer matches on easyfundraising will appear on the top right of the page.
Make sure you click the green button to activate your donation link and ensure your purchase raises a donation for your chosen good cause.
Any questions? Feel free to comment below or contact us and we'll be happy to help!
Happy fundraising!