This week's guest post is a typical day in the life of volunteer Joanna Beale. Joanna spends each Friday volunteering at easyfundraising cause Wakefield Riding for the Disabled.  WRDA provides horse riding and therapy to disabled people within the Wakefield district.
"I volunteer every Friday and I absolutely love it. I get there at about 9am along with volunteers Kayleigh, Aimee, Chelsea, Billy and Leanne and Carol and Carolyn, the managers.  First job is to catch, groom and tack up the horses (I didn't even know what any of this meant when I first started, but the staff and other volunteers were helpful and very patient!). Lessons begin at 10 and I help to lead the horses.
Jenny and Sam
"The first lesson is with Jenny. Jenny has muscular problems so she rides with a sheepskin instead of a saddle. This helps with her stiff joints as the heat from her horse Sam eases her muscles. Also the movement of Sam walking mimics the movement she would make if she was able to exercise, which helps to loosen her very tight muscles. Sam is brilliant with her as she is only really held on by her two carers.
Jenny is a character and all of us (staff, volunteers, her carers and other riders) have a laugh when she is around! Even when she is too unwell to ride, she comes along to see us and sit and watch, and makes sure we know she is there.
Pam and Amber
"Riding on Amber is Pam who spends a lot of the time naming delicious and fatty foods; I am always starving by the end of the lesson! She also chases Jenny around the school and we have a lot of fun seeing who will win this week!
Natalie and Caroline
"Once Jenny and Pam are finished, we change Sam back into his saddle ready for Natalie and Caroline. Natalie rides Sam and she loves to scrunch things up in her hands. We are working on getting her to hold the reigns herself.  Sometimes she finds riding Sam so relaxing, she even falls asleep whilst in the saddle! Caroline rides Amber and is a massive fan of Katie Price (I think it has something to do with the equestrian link!), and a good rider.
Kathryn and Oliver
"Third lesson of the day is Kathryn, Oliver and Gill, another volunteer. Kathryn is a wonderful lady, she is so funny and together with Sam they have an interesting ride (neither of them seems to like corners!).
Oliver is a brilliant rider, and on Amber they are mesmerising to watch, especially when practicing dressage. Gill rides whichever horse needs a bit of work, and has recently been riding Wakefield RDA's newest pony, Louis, who doesn't like corners either. (I like to pronounce his name Louie as he has a moustache and looks very French).
"We then take the horses back up to the yard, untack them, and they are usually turned out into the field. This takes us up to lunch time, when we all have a break, some food and a natter! After this there are yard jobs to do, such as mucking out stables, skipping out the corrals or the worst job; skipping out the field! After all the mucky jobs are done, we tidy up and head home for a hard-earned soak in the bath!"
Support WRDA
WDRA rely on donations, fundraising and volunteers and on average, need to raise £70,000 per year to continue running. They are always looking for new ideas! You can support them when you shop online via easyfundraising – click here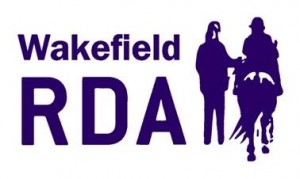 For more information, please visit www.wakefieldrda.typepad.co.uk and follow them on twitter @WakefieldRDA.