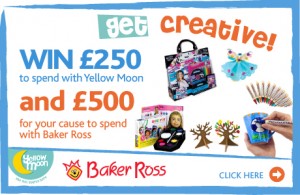 Each month we team up with one of our partner retailers to offer a great competition prize. This month is a little different as we're giving away two prizes instead!
Shop with us this month and we'll enter you into the pot to win £250 to spend with Yellow Moon and £500 for your cause to spend with Baker Ross.
How to enter
Just shop online with us as normal and we'll give you one entry into the draw for every purchase you make.  And as usual, you'll also raise  money for  your chosen good cause whenever you buy something.
We'll also give you an entry every time you tell a friend about us and all new members who join us during November will also get an entry.
Spread the word
Let all your friends and supporters know about this competition – the more people who know about it, the better chance your cause has of winning. Just click on the share icons above this post to spread the word on Facebook, twitter, and by email.