On 4 February, ActionAid launched the Ready for Anything campaign, which will help the world's poorest people everywhere from Afghanistan to Burma to prepare for the next big disaster, helping to save lives now.
Throughout the campaign, every donation made by people in the UK will be doubled by the government, helping twice as many people.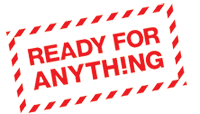 Donations from the campaign, which has a target of £1.1 million, will go to disaster preparedness programmes across countries including Malawi, Burma (Myanmar), Afghanistan and Nepal, helping thousands of the world's poorest people prepare to survive the next disaster.
Emergencies are becoming more frequent and growing in intensity. Between 250 and 300 million people are affected by disasters and conflicts every year, but this is expected to rise significantly. By 2015, the number of people affected by climate-related disasters alone is set to reach 375 million. Natural disasters hit the poorest people hardest – those who survive the initial disaster are left with their lives destroyed.
Richard Miller, executive director of ActionAid UK said: "We can't stop disasters from happening, but we can prevent them from becoming tragedies . Put simply, if you are prepared you are more likely to survive. ActionAid have been working with poor communities on building their preparation for and resilience to emergencies, and we know that this vital work saves lives. Because every UK donation to Ready for Anything is doubled by the UK government, we can help to save twice as many lives through this remarkable and important appeal."
As well as the partnership with the UK government, the appeal is being run alongside Laithwaite's Wines, who have been working with ActionAid for a number of years, and will be promoting Ready for Anything to their UK-wide customer base.
To find out more about the campaign and make a donation, visit www.actionaid.org.uk/ready.
You can support Action Aid when you shop online via easyfundraising – click here to support Action Aid