For the last few months we've been following easyfundraiser Aimee who is running the London Marathon in support of the Anthony Nolan Trust. With less than a month ago, Aimee has been fundraising hard as well as training hard!
"Fundraising can be tough.  I'm always conscious of being the irritating friend who consistently asks for donations.  Even though it's for charity I can't help but feel a tad annoying!
"My London Marathon fundraising target for Anthony Nolan is £1,800 and I've been determined to raise as much as possible without asking for sponsorship.  This means I've been up until midnight baking cakes to sell in the office, organising pub quizzes and, most recently, sourcing comedians for a charity stand up night!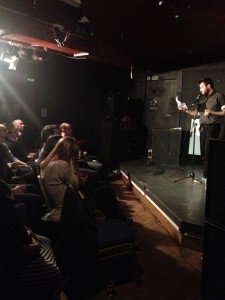 "The comedy night was a great success and in total I raised £460.  I was definitely nervous on the day… what if people didn't turn up?!  Or worse, what if the comedians didn't turn up?!  But luckily everything went to plan.
"To be fair, organising events like this haven't been a one-woman job.  My closest friends have been brilliant in helping me organise and I've relied on others to attend and bring along their pals too.  So my biggest piece of advice for anyone organising a charity event is to ask for help!
"To give you an idea of the number of people that helped me organise my charity comedy night, I wanted to publicly say thanks to the following: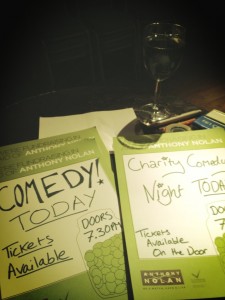 Adam, my housemate from university, who helped me source the comedians, performed his own set and was the soundman for the night.
Four lovely comedians who gave up their time to perform.  Thank you to Robin & Partridge, Lee Kern, Sam Fletcher, Aisling Bea and the fantastic MC Sanderson Jones.
The Miller pub in London Bridge who let me hire their upstairs room free of charge.
The lovely events team at Anthony Nolan who sent me posters, banners and balloons to give the room a party atmosphere.
My best and oldest friends, my sister and my work colleagues who attended and brought along friends too.
And finally, Time Out London who featured my event on their website and put me in their magazine!
"If you have the support, and aren't afraid to ask for a little help, there's no reason why you can't organise a successful fundraising event.  I promise that if you approach it with enthusiasm you can only succeed.
It's less than a month until the London Marathon now!  Training has been good so far and I'm still injury free – touch wood.  The long runs have been the toughest… my final three long runs were 19 miles, 20 miles and 22 miles.  Ouch!  But they're there to make the 26.2 easier!
Bring on Virgin London Marathon 2013!
You can support Aimee when you shop online: http://www.easyfundraising.org.uk/causes/aimeecook