Today is World Sight Day and we're pleased to have a guest post from Krista Dixon, Fundraising Manager for VICTA.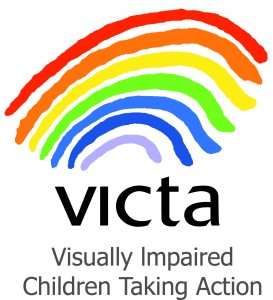 "Today is World Sight Day.  So spare a moment to find out about VICTA and what we can do to help blind children.
Background
Founded in 1987, VICTA (Visually Impaired Children Taking Action) was set up by parents of blind and partially sighted children who were struggling to meet the needs of their children. As the years passed, and with successful fundraising, the charity became a national service for all families with a visually impaired child.
What we do

VICTA now offers these families a variety of different services. The majority of the charities income is spent financing the VICTA grant giving scheme. This year, we will have spent nearly a quarter of a million pounds purchasing equipment for visually impaired children. The money goes on purchasing, computers with enlargement software, funding placements on  vacation schemes and sponsoring young visually impaired athletes, some of whom will be representing the UK at the 2012 Paralympics.
The future
Last year VICTA launched a number of other activities and projects to help equip and encourage families with visually impaired children. We've recently re-launched its website which will become a hub of information for families, whilst VICTA's investment in social media such as Facebook and Twitter helps families to stay in contact and support each other.
In 2010 we held our second family weekend. This has been a fantastic experience for VICTA as it gives the organisation an opportunity to meet the families that it supports, and to encourage and equip them in new ways."

How can you help?
If you'd been inspired by the work of VICTA, you can help them raise money by shopping online with easyfundraising. Just go to www.easyfundraising.org.uk and search for VICTA or just click here!