We've had a face-lift!
The old easyfundraising site has served us all well; however it was starting to look a bit tired and ragged around the edges (well it happens to us all eventually…).
So, we've dragged it kicking and screaming into the present and given it a face-lift to bring you a modern, fresh looking website, with improved functionality and some new features.
So what's changed?
Apart from our new look and layout, we've listened to your feedback to improve many features:
For easier and more obvious access we've moved the retailer search box to the top right of the website:

If you regularly shop with the same,

favourite retailers

, to make it easier for you you'll now find these on your homepage when you log in. To add more retailers to your favourites, simply click on the button below the retailer names.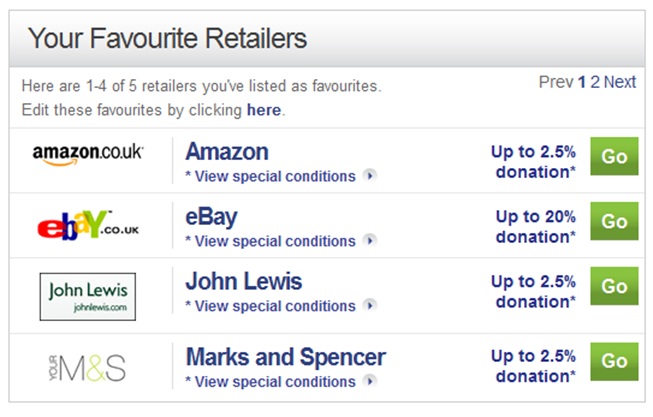 You can now see at a glance how much your cause has raised in total, and how many supporters your cause has and from this section you can also see all your transactions and easily manage your account details and favourites.
Another key new feature of this section is Last Visited Retailers – this displays your visits to retailers so you can ensure our system is accurately tracking your outbound retailer clicks.
We've also updated our blog with a new look and easier ways to leave comments – please do comment on this post to let us know what you think of the new site.
 And because we love to hear from you so much, we've added a feedback widget on every page, so you can tell us what you think or even report a bug, all in one click.
Anything else?
We've made a few changes 'under the bonnet' to things you can't see.  We have tweaked the way the website runs, making it faster to give you the ultimate online shopping experience, all while raising funds for your chosen cause.
Do tell us what you think – your comments are really important to help us ensure we are getting it right!
Happy fundraising!