Today's guest blog is from fundraiser Aimee Cook who has become a marathon nut in the last year – all in the name of charity!
"I can't remember when or why I decided I was going to run the London Marathon but, six years ago, running those 26.2 miles through London made it to the top of my bucket list.
"I was never a runner.  I attempted a run occasionally but there was no consistency or dedication.  I didn't really enjoy it.  So why did I want to run a marathon?  I'm not sure.  I probably enjoyed watching it on the TV once and thought it would be satisfying to tell people that I had completed it.
"I don't think I actually expected to run it, not really.  It's very hard to get a ballot place; around 130,000 people apply and only 1 in 7 is successful.    It's not the best of odds.  I wasn't surprised when I failed to get a ballot place… three years in a row.
Fourth Time Lucky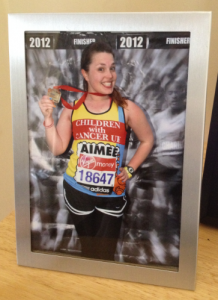 "I finally got a place on my fourth ballot entry for April 2011. It didn't all go to plan though.  I got injured and had to defer until the following year.  2012 came around and what happened?  I got ill and had to take a month off training.  When I finally got reacquainted with my running shoes I got injured.  You can't defer a place twice so I had to go ahead with limited training and a body that was not fully recovered.
I Did It!
"It's safe to say that my marathon training regime didn't go to plan.  On the day of the race I knew I wasn't as prepared as I had hoped to be so instead of giving myself a goal I told myself to "just get around".
"And I did.  And it was hard.  I started feeling dizzy before halfway and when I hit the late teens and early twenty mile markers I was totally confused… I had no idea what mile I was on or how far I had left to go.  I'm pretty sure if you had asked me I couldn't have told you my name (luckily you write it on the back of your race number for such circumstances!)
"Even though I wasn't feeling my best I could still appreciate how incredible the race was.  The spectators make it.  I've never interacted with so many strangers and if it wasn't for them I may not have got around at all.
"I completed the course in just over five hours.  And it's one of the best things I've done, despite everything.
Itchy Feet
"What happened next was interesting…  After giving myself a few weeks off for recovery, I started getting itchy feet.  I wanted to go running!  I wanted to race.  So I did.  This year I've ran two 10km races and one half marathon with a plan to fit in a few more races before the year is out.  In terms of normal training, I'm usually out a minimum of 4 times a week running around Clapham Common or Battersea Park.
"In the space of a year, I've gone from someone who finds running very difficult and not that enjoyable to someone who can't wait to get home so that she can lace up her Saucony trainers and head out the door.
Another Marathon!
"On my runner's high, I applied for the 2013 London Marathon soon after completing the 2012 race.  But, as expected, when ballot entries were announced I wasn't one of the lucky ones.  As my Twitter feed started filling up with people that were successful I started to get jealous.  I had to do it again but properly this time!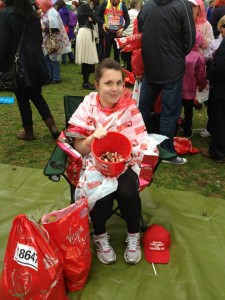 "I applied for a charity place.  If you're lucky enough to secure one of these gold bond places you have to agree to raise a certain amount for the charity.  It's usually around £1800 but can sometimes be up to £2500.
"I researched some of the charities that were offering places to runners.  When I was younger, my best friend from primary school suffered from leukaemia so I knew I wanted to find a charity that helped raise money to fight this disease.
"I came across Anthony Nolan.  The more I read about this charity, the more I knew I wanted to race my little heart out for them.  It's an incredible charity who helps match stem cell donors with those who desperately need a transplant.  Their amazing work helps people who are suffering from blood cancers like leukaemia.
Running For Anthony Nolan
"I can't express how surprised I was when the lovely events ladies from Anthony Nolan called me to offer me a place.  They proved themselves to be even lovelier after they listened to my squealing and "I'm going to cry" shrieks at 9am on a Monday morning.
"I'm confident that this time my training is going to be spot on.  I'm a faster runner now and my physical and mental strength is greater.  I'm also confident that I'll exceed my fundraising target of £1800 as I've got loads of ideas and endless enthusiasm for the task!  Watch this space…."
Good luck Aimee -we'll be following her progress as she trains for and competes the Marathon in aid of Anthony Nolan. You can help Aimee raise money for Anthony Nolan when you shop online via easyfundraising