Today is World Animal Day and our guest blog comes from one of the many animal welfare causes that fundraise with easyfundraising.
Equine Market Watch is dedicated to improving the welfare of horses and ponies in markets and auctions.  The charity is run entirely by unwaged volunteers and offers an equine sanctuary base in Herefordshire as well as foster homes.  Elaine Tasker explains a few of the issues they face daily:
It's never easy doing this job.  Here's our list of dilemmas:-
Taking in horses and ponies
We're offered horses on a daily basis but sometimes we have to say no or we'd soon be stacking horses and ponies 5 deep!  No one can care for very long if numbers become un-manageable. Define that number? I can only say our own quota is no more than 15 maximum. That is on scrupulously clean ground of almost 17 acres, with yard and stabling and a daily volunteer squad of no less than 3 people. Having said that, I try hard not to exceed 12 horses or ponies as we like to give quality care.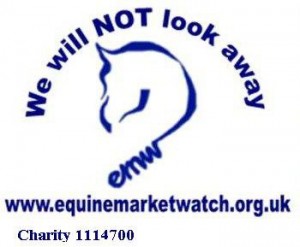 Caring for horses and ponies
You need to really know the horses to mend them. That takes time, hence our slow turnaround. By the way- mending the horse on the outside is the easy bit!
Loaning out
The homes on offer are usually 100% but every now and again you know you wouldn't put a rocking horse in 'that' yard let alone a real one. That's why we ask a zillion questions and come and look at the home on offer. That's also why we don't ask for a 'loaning' fee – that's the sum of money that changes hands when animals move from sanctuary to loan home. Our aim is to find the right and best home for the horse – the rest is incidental.
Final day
Here's the hard one; choosing the day. There is no right day.  Horses are living longer these days – ages ranging upwards of 25 to 30 are common nowadays. But no matter what age, you'll know your oldie is heading towards the end when that certain expression of joy leaves his lovely old face, when he looks weary and things start to get hard for him, when the others in his herd start to shun him. Not easy is it….?  We all just do our best.
So that's a few of the things we face daily in the course of doing the job.
When we get it right, we only take in numbers of horses that we know we can comfortably cope with, adequately care for and financially support.
When we get it right, we get recovering horses fit and well that can then go on and do their jobs in good loan homes outside of the sanctuary or rescue yard.
And that tricky final day?  We hope to get that right most of the time because if we know our horses, haven't overstocked ourselves, have time to love and spend time with each of them, then we'll know that we chose one day too soon rather than that one day too late.
Doing the best you can isn't about awards or patting ourselves on the back or scoring points against other organisations; it's about the welfare of these vulnerable animals that depend upon us.  EMW-UK do our very best to step up to the mark but if you think we need nudging along, please nudge us.
You can help to support us by shopping online at www.easyfundraising.org.uk/causes/emw