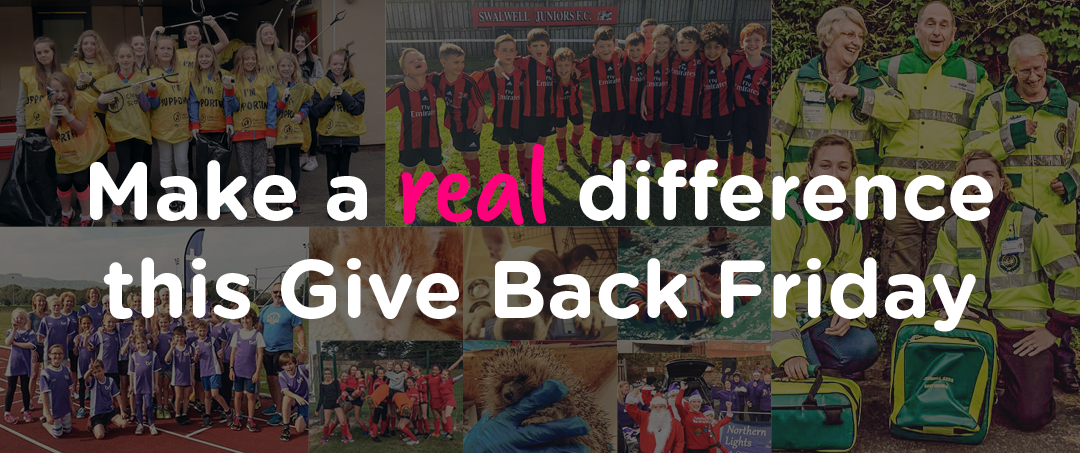 Online shoppers will be out in force this week with Black Friday and Cyber Monday deals set to be better than ever! An incredible £5bn is expected to be spent by savvy Christmas shoppers who will be on the hunt for cut-price gifts.
If all of those shoppers were to use easyfundraising on their spending spree, we could raise £20.6 million for charities and good causes across the UK! What a difference that would make.  That's why we've renamed it Give Back Friday.
Don't miss out on crucial donations at this time of year! Check the 5 quick and easy ways to remind supporters to shop the easyfundraising way and give #MoreThanAGift this Christmas.
1. Download our Donation Reminder and App!
Make sure you don't lose out on donations by reminding supporters to download our Donation Reminder. It provides a little reminder every time you shop online so you don't forget to collect those donations. Over 150,000 supporters use it and they raise 5 times more than those who don't!
With life busier than ever in the lead up to Christmas, our easyfundraising App makes it easy for supporters who want to shop on their mobile or tablet. You can keep track of cause targets and your latest donation total too!
2. Amazon and eBay donations are different
Our Donation Reminder won't tell you when a donation is available at these two great sites. This just means you need to go through our website or app to get to their websites and always make sure your shopping basket is empty before you start shopping. Download our simple guide to shopping with Amazon and eBay, which you can send out to supporters.
 3. Spread the word on social media
The quickest and easiest way to remind supporters to collect donations when they shop online for bargains during Cyber Weekend is on Facebook and Twitter. Use our ready-written social media messages, which you can find in our Black Friday tool pack. Copy, paste and share – simple! You could also share our Black Friday offers page , sending supporters directly to our unmissable deals from our retailers.
Don't be afraid to be persistent! If there's one day you can, it's Black Friday! And it's all about timing. Schedule your posts and tweets at the following times to get maximum reach:
In the morning when people are commuting to work
Lunchtime when people have chance to shop on their phone and in the
Evening when the kids have gone to bed and people are free to shop! 
4. Instant message friends and family
Rally up the support of your friends and family by messaging your contacts and encourage them to raise donations on Give Back Friday.  Simply copy and paste the below message to your contacts via WhatsApp, SMS and Facebook Messenger.  It's a quick way to drum up support and highlight just how many free donations are waiting to be raised.
"The busiest online shopping day of the year, Black Friday, takes place on 25th November!  By using easyfundraising when you shop online for those bargains, you'll be giving #MoreThanAGift this Christmas by raising FREE donations for [cause name]! With over 3,100 retailers offering incredible deals, you'll find all you need for a Merry Christmas while giving our fundraising a festive boost! Sign up today: https://www.easyfundraising.org.uk/[INSERT CAUSE PAGE URL]"
If you don't know your cause page URL you can get it here: https://www.easyfundraising.org.uk/promote-my-cause/
5. Drop an email to supporters
It's also worth emailing all of your supporters to remind them about all of the free donations they could be collecting for your cause on Give Back Friday!
Simply copy and paste one of our ready-written email and send to your database and encourage them to give #MoreThanAGift this Christmas.
Any tips of your own? Comment below, we'd love to hear them! Happy fundraising.