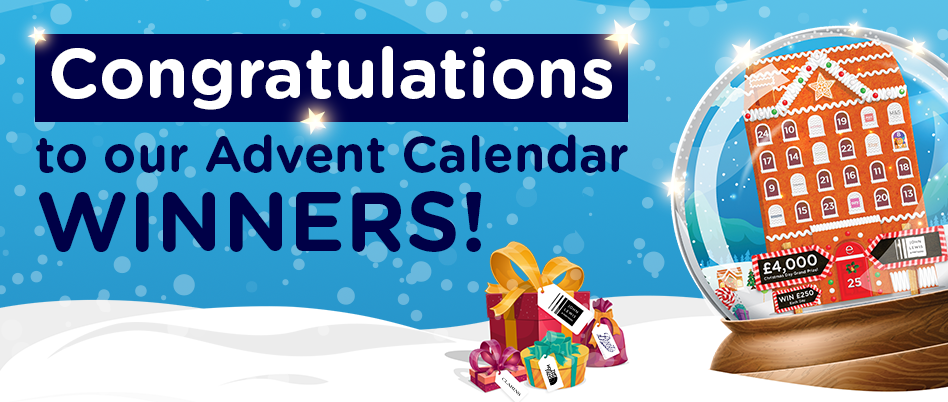 We gave away a total of £10,000 in prizes and donations during December.
We're thrilled to confirm the winners below!
Thank you to all who have played and raised this year.
Winners
Day 1 – Hayley, supporting Disability Information Bureau – Macclesfield
"Oh that's brilliant! So glad its going to a worthy cause."
£250 donation, courtesy of John Lewis & Partners
---
Day 2 – Lesley, supporting Bunbury Aldersey School Association
"'I'm delighted to have won a £125 donation for the Bunbury Aldersey School Association. The small, rural school is raising money for an outdoor forest area and classroom, which will be great for the children's wellbeing and learning! Easyfundraising is a great way for me to raise a small amount of money for the school every time I shop online. All it takes is a click on the app"
£125 donation and a £125 prize bundle, courtesy of Boots
---
Day 3 – Paul, supporting Fulneck School PFA – Pudsey
£250 donation, courtesy of Gap
---
Day 4 – Kerry, supporting North Cave School
£250 donation, courtesy of Readly
---
Day 5 – Louise, supporting St Edwards PTFA Coleshill
£250 donation, courtesy of Dominos Pizza
---
Day 6 – Jennifer, supporting Barley Hill School PTFA – Thame
"Thank you so much this is amazing. The money will come in so useful for our school, Barley Hill PTFA would like to put the money towards new reading scheme books The school would like to purchase for the children. Easyfundraising is a fantastic and easy way to continually give to your chosen charity, the app makes it very easy to shop. "
£250 donation, courtesy of Nixon
---
Day 7 – Lauryn, supporting 1st Whitchurch Guides and Rangers
"In these difficult times, the Guides and Rangers have been unable to meet in the usual way so the leaders of the unit have not wanted to charge the usual termly subs. This amazing donation will help keep the guides and rangers going until they are able to meet normally and continue what they love again! Easyfundraisers, keep shopping small and local to keep your cause and the smaller businesses thriving – it really will keep us all going!"
£250 donation, courtesy of Notonthehighstreet & a £50 gift card
---
Day 8 – Grant, supporting Mull Safe and Sound
"Thank you so much for this donation, all the funds we raise go to our mental health and social isolation group the money will help us to continue to support our members throughout the Isle of Mull through what's been a challenging year, especially with our island geography people are so spread out and can be very isolated we have been keeping in contact and sending out small care packages to our members throughout COVID this will help us continue that until we can all come together to meet in person again hopefully in 2021. My tip to other fundraisers is just keep publicising the use of easy fundraising it's a fabulously easy way to raise funds whilst doing online shopping with no additional outlay. I would highly encourage any cause to use it. Having the downloaded function on your laptop or pc that helps not miss donations and the mobile app are invaluable in maximising the effectiveness of easy fundraising many many thanks from Grant and Mull safe and sound."
£250 donation, courtesy of Marks and Spencer
---
Day 9 – Farihaa, raising money to cover university costs
£250 donation, courtesy of Clarins
---
Day 10 – Sarah, supporting Friends of Tedburn St Mary School
"We have only recently joined easy fundraising, and it was quick and easy to sign up. Our supporters were also keen to register and we are already seeing the financial benefits for our school. Like many charities due to Covid 19, we had to adapt the way we fundraise as we are not able to hold in person events. With this win we will be able to continue to provide the children at our school with enrichment activities throughout the upcoming year."
£250 donation, courtesy of Northface & a £50 gift card
---
Day 11 – Alison, supporting Andover Town Band
"I'm thrilled to have won a £250 donation for Andover Town Band. During this difficult period when all our normal fundraising has ceased this will help to support our work within the community."
£250 donation, courtesy of Snapfish
---
Day 12 – Kerry, supporting Friends of Charles Kingsley School Association (FOCKSA)
"The easyfundraising site has allowed me to raise much needed funds for Charles Kingsley's School over the last year. However, today I have won a £250 donation for my child's school which really is the best news after such an unsettling year. This money will help the school buy much needed resources, particularly as all fundraising events at my sons school have been cancelled due to the pandemic. Such a lovely way to finish the school term, thank you so much Easyfundraising, this donation will make a huge difference."
£250 donation, courtesy of All Saints
---
Day 13 – Mildred, supporting Eastfields Nursery School
£250 donation, courtesy of Music Magpie
---
Day 14 – Steven, supporting Dialysis Network UK
"Thank you, this is amazing for Dialysis Network UK, and will help to support the vulnerable through the covid pandemic. We are currently shopping for the vulnerable and have a zoom chat 3 days a week for those who need to talk, due to loneliness."
£250 donation, courtesy of Cath Kidston & a £50 gift card
---
Day 15 – Elizabeth, supporting St Maragret Mary's RC Junior School PTA Liverpool
"We are all so happy to have won, thank you very much for the opportunity. We are a fairly small PTA fundraising for a very large school and due to covid most of our usual events have not been able to go ahead this year."
£250 donation, courtesy of Warehouse
---
Day 16 – Katarzyna, supporting Perry Beeches Sutton Swim Squad
"Thank you – that means a lot to us in Perry Beeches sss – it is very much appreciated."
£250 donation, courtesy of Puma
---
Day 17 – Ashvin, supporting Seer Green School PTA
£250 donation, courtesy of Very
---
Day 18 – Helen, supporting The Arcadians
£250 donation, courtesy of Oasis
---
Day 19 – Alan, supporting Snape Community Primary School – Suffolk, Saxmundham
"Wow, I'm very pleased to have won!! This donation will be greatly appreciated by Snape primary school. Thank you!"
£250 donation, courtesy of Elemis
---
Day 20 – Marie, supporting Friends of Davies Lane
"Thank you for easyfundraising for helping us raise funds for our school. Thanks to those passive donations while we do our normal online shop the children can benefit from awesome new play equipment and trips in the new year."
£250 donation, courtesy of Tk Maxx
---
Day 21 – Kathy, supporting Poplar Farm School
"It has been difficult for schools to fundraise this year, so this will make a big difference for Poplar Farm School, and will help them to continue the fantastic work they do. Thank you ever so much."
£250 donation, courtesy of Audible & a £50 gift card
---
Day 22 – Karen, supporting Linthwaite Clough Junior Infant and Early Years School
"I'm absolutely over the moon to have won a prize, I work in a school, so ordering on the app has been so easy & convenient in these hard times, also raising much needed funds for my school.
Thankyou easyfundraising this has made my Christmas."
£250 gift card, courtesy of BuyaGift
---
Day 23 – Laura, supporting St Bride's Nursery Class Bothwell
"Due to Covid and restrictions nursery is a little different for the parents and children this year. This donation will help acquire materials to ensure the children are always learning!"
£250 donation, courtesy of TUI
---
Day 24 – Vikki, Supporting Morpeth First School – Morpeth
£250 donation, courtesy of Monsoon
---
Day 25 – Richard, supporting St Mary's Church, Almeley
"I'm very pleased to have won such a large donation for St Mary's church. This will make a significant difference. This will support a range of activities in their rural area. easyfundraising is simple to join and gives donations from many popular retailers."
£2,000 donation & £2,000 gift voucher, courtesy of John Lewis & Partners
If you're not signed up to easyfundraising, register with us here to raise FREE funds for your chosen cause!