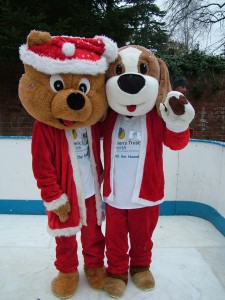 Our guest post this week is a heartfelt appeal from Angie Turner from The Children's Trust, a small national charity which provides unique and specialist services for some of the UK's most profoundly disabled children and young people. The Trust is the only centre of its kind in the UK and has an unparalleled national and international reputation.
"Many of the children at The Children's Trust won't go home for Christmas this year. We want to make Christmas Day as special as possible so could you help us simply by adding one more gift to your shopping list? We've created a 'wish list' of small gifts that we know our children will like.
You can buy any of the items on our wish list through easyfundraising and as well as giving a much needed present to one of our children, you'll also raise a donation. And you won't even have to leave the house! It would be fantastic if you could choose The Children's Trust as the cause you support through easyfundraising too.
Here's our list of presents – remember to go through easyfundraising before buying!
One of the CD's in top 30 especially Now 77 – Amazon, Play.com, HMV
One of top 20 children's DVDs – Amazon, Play.com, HMV
Gloves, hats and scarves – M&S, Boden, Debenhams, BHS
Make up and toiletries – Boots.com, Argos, M&S
Musical instruments – Early Learning Centre
Early years shape puzzles, noisy books and any multi sensory soft toys – Early Learning Centre, TheToyShop, ToysRUs, Amazon, Argos
If you haven't registered with easyfundraising yet, here's what you need to do:
Register for free at www.easyfundraising.org.uk/childrenstrust
Decide which present you would like to buy for our children and type the retailer name into the search box on the easyfundraising site.
Click on 'visit store' and start shopping as you would normally
Because you went through the easyfundraising site first, the retailer you shop with will give The Children's Trust a donation – you'll get an email telling you how much you've raised.
Come back to easyfundraising every time you shop online and raise even more!
If you decide to buy a gift for our children, please remember to choose The Trust Address as the delivery address:
Tadworth Court
Tadworth
Surrey
KT20 5RU
We're feeling the recession and your support is more important than ever to ensure our children have a happy Christmas, despite being away from home. Please help us by buying a gift today. Thank you so much – your kindness is appreciated."