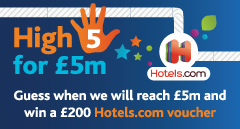 That's right, in the coming days, we will have officially raised £5million for good causes! We want to thank all of you amazing fundraisers who have made this possible. Your shopping has made a difference to thousands of causes up and down the country.
We also want to give a big High 5 to all of the 2000+ retailers who work with us to help our causes. Thanks guys!
Win £200 to spend with Hotels.com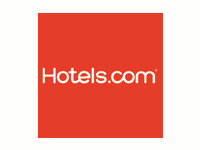 To celebrate this fab achievement, together with our friends over at Hotels.com, we're giving you the chance to win £200 to spend on the hotel break of your choice. All you need to do is guess the time and date that we'll actually pass the £5million mark – the closest guess will win the prize!
As we speak, the amount raised stands at £4,979,979.50 (as of 13/5/13) You can check the updated amount anytime on our homepage – www.easyfundraising.org.uk.
Post your time and date below – good luck!