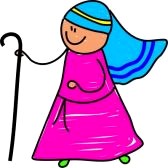 White Stuff wants to know who you were in your school's nativity play!  They had some unusual stories in their Christmas magalogue (who knew there was a cavewoman in the stable?!) and that got them thinking that there must be some more funny stories out there!
Post your Christmas Play tales below (along with photos or videos, if you dare).  They don't have to be yours… please feel free to share stories of your family and friends!
The very best and funniest story will £50 for their cause!
We'll announce a winner on Monday 5th December.