One thing we all like is a bargain, and at easyfundraising we like to keep all our members up to date with the latest retailer offers. So to help you get all the best bargains and raise money for your cause, we just added an RSS feed of the special offers which anyone can subscribe to!
Okay but what is it?
RSS? What's RSS?! Well, RSS stands for "Really Simple Syndication" and is a way for news services like the BBC and in fact any website to publish news and useful information in a standardised way.  By subscribing to an RSS, you get this info straight into your inbox without having to hunt around.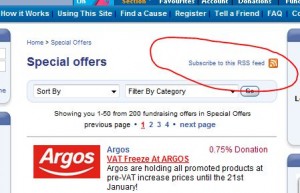 So with the easyfundraising RSS feed, all you need to do is subscribe (it's free of course) and our latest special offers will find their way straight to you.  Just go to our Special Offers page, click on 'Subscribe to RSS feed' in the top right hand corner and then follow the on-screen instructions to set up the feed in your news reader.
What's a news reader and where do I get one from?
Lots of companies out there have built news "readers" which allow you to subscribe to RSS feeds. The news reader is then responsible for checking periodically to see if any new articles have been published.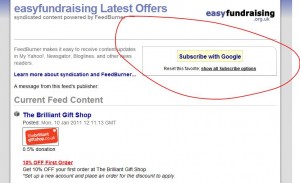 One of the easiest ways to get started is to use Google's free Reader.  This is just a web page and can therefore be viewed in any web browser. It's free and easy to use, all you need is a Google account .
If you already use Google for your email, then you already have an account and are ready to go!  You just need to add the easyfundraising Offers feed to your Google Reader.  Click on the "Add a subscription" button in Google Reader and paste in the URL of the offers feed: http://feeds.feedburner.com/EasyfundraisingLatestOffers
You can add dozens of RSS feeds to Google Reader, so look around for more that may be of interest to you, for news look at the BBC website for example, there's an RSS feed on there that you can add and be kept up to date on the latest headlines.
Useful info
Other news readers can be downloaded that run on your PC or Mac and there are even news readers for iPhone and Android phones so there's no excuse not to get your news and offers on the move!
For the Mac (and iPhone/iPad), a really good news reader application is NetNewsWire which can be downloaded for free from here: http://netnewswireapp.com/
NetNewsWire also uses Google Reader, so if you have set up your feeds in Google Reader already, you just need to tell the NetNewsWire application your Google login and it will fetch the feeds for you.
For Windows there is an application called FeedDemon: http://www.feeddemon.com/ which works in a very similar way.
Another way to receive RSS feeds is to setup your email client to read feeds. Both Outlook and Thunderbird have RSS feed readers built in.
Anyway, have fun with RSS feeds and we hope that the easyfundraising Special Offers RSS feed helps you find some great deals from our retailers and raise more for your cause.