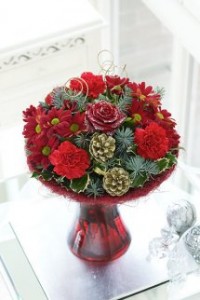 Do you know someone who deserves a pat on the back?  Together with Interflora, we're looking for our Star of 2010 and we need your help to find them
All easyfundraisers are stars – just choosing to support your cause by shopping with us means you're making a positive choice to make a difference – but do you know someone who makes an extra-special effort? Perhaps they give up their free time willingly to help others, or maybe they've made raising money their life's work?
Whatever the reason, tell us who you think deserves the title of Star of 2010 and why. We'll feature the winner and their cause on our blog and they'll win a this gorgeous bouquet from Interflora to thank them for their hard work.
We'll announce the winner on Friday 10 December.
Our thanks to Interflora for offering this lovely gift. Right now Interflora have increased donations to 4% until 21st December 2010.