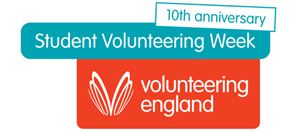 Today marks the start of Student Volunteering Week, a week long celebration of the contribution made by young people to the voluntary sector.
At easyfundraising we're proud to be able to support students and young people with their fundraising. Many students use our service, fundraising for many different causes and also raising funds to enable them to take part in various individual and group challenges such as World Scout Jamboree, World Challenge, GOLD, Duke of Edinburgh and others.
On the blog this week we're highlighting the work of some young fundraisers choosing to to make a positive difference to the world around them.
Today's star is Sarah Kidd.
"My name is Sarah and I am 20 years old. I volunteer to help bring comfort and hope to poorly children.
"When people first think of volunteering, they may not always think of something that takes place at home. I have suffered from an illness since I was fourteen years old. I'm not able to stand up or walk anymore.  I can't remember how it feels to be well, my illness affects almost every aspect of my life preventing me from being able to do so many things.
"But despite the challenges I may face, my illness doesn't prevent me from volunteering.
"I make a special soft toy named 'Hugo' for children who are living with life limiting or long term illness and disability. Hugo was created as a companion for children to take with them into hospital as a friend to comfort them whilst they ungergo tests, treament or over night stays.
Each Hugo is handmade by me and unique to the child that receives it, hand-stitched with special words of love and support chosen by the child's family.
To a child, Hugo could be a friend to share secrets and dreams, worries and fears. He is a symbol of love and courage, a gift of hope."
Don't know about you, but we think Sarah and Hugo are pretty amazing. You can learn more about Hugo by visiting Sarah's website or you can support her amazing work by shopping online with easyfundraising.
Do you know a young person who volunteers or fundraises? Please tell us about them below to we can give them a shout out!
Sign up to our blog to receive our posts straight to your inbox – just put your email address in the subscribe box.