The things some people do for their cause is simply amazing! Take the supporters of Peterborough Family Voice for example, a small registered charity who work to improve services for parents and carers of children and young people with a disability or additional needs. Spokesperson Wendy reveals all (literally!):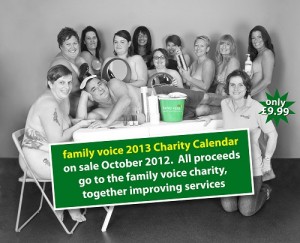 "It all started as a Facebook discussion on what would you do if you knew they'd be no consequences and you knew the world was going to end.
"After a long discussion someone said they'd go nude, someone else mentioned a calendar and the next thing we knew, quite a few of us were asking if we could do one.
"Being me, I needed no persuading – I've had my head shaved and done a sky dive so doing crazy things for charity has become a signature move! In actual fact no one had to be persuaded – they will all say that they were told they had to be in it!
The bare facts
"The photo shoot was hilarious – you can read all about it on our blog. Nerves started to set in on the day but there was so much going on and so much laughing and joking that they were pretty short lived and by the time we did the promo pictures we were used to stripping off!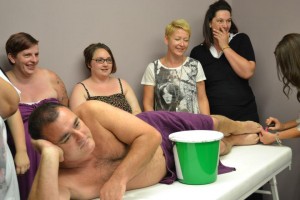 "We are initially printing 500 calendars, we've had it endorsed by Warwick Davies who features on the front cover (clothes I hasten to add!)  And we've had a variety of local businesses and parents sponsor the calendar in order to cover the printing costs thus allowing for all the money raised to go straight back into the charity.
Get your hands on one!
"We are hoping to raise £5000 minimum as the calendars are £9.99 but we are hoping that people will help some of that be match funded through Local Giving grow your tenner scheme.  You can pre- order a calendar, pay £10 and help us have that match funded.
"The money raised will be split between core costs to keep the organisation running and some will be allocated towards trips and events next year."
You can order the calendar online in our charity shop or why not help this great cause by shopping online via their easyfundraising page?