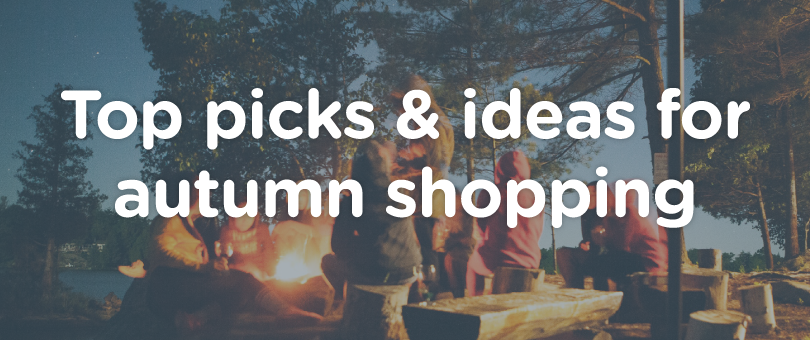 The leaves are falling, the days are cooler and the nights are drawing in – autumn has arrived, and with it comes ways to raise donations for your good cause or charity when you do your autumn shopping through easyfundraising.
Check out some of our top picks and ideas below.
Winter is Coming
Make your house a home this season. Snuggle up on the sofa with a cosy throw – M&S (up to 1.50% donation) have an eclectic range, as do Next (up to 1.50% donation) and bring some extra warmth to your bedroom by adding a stylish quilt and stacks of soft velvet cushions from La Redoute (up to 4.00% donation) or Etsy (up to 4.00% donation). Lighting is key at this time of year so check out what Next (up to 1.50% donation) and Littlewoods (up to 5.00% donation) have to offer. Candles – and lots of them – are another way to inject a welcoming warmth into your home. John Lewis (up to 2.00% donation) and Lakeland (up to 2.00% donation) both have a good selection.
Switch & Save
Of course, getting your home autumn-ready is not simply a matter of aesthetics. In this time of rising gas and electricity prices, we should all be conscious of how much we are paying for our energy, particularly as the wintry weather approaches. There are some great savings to be made when switching provider so why not head over to uSwitch (up to £15.00 donation) to see if you can reduce your bill. On a similar theme, early autumn is the ideal time to get your boiler serviced (AA Boiler Cover – up to £15.00 donation) to ensure your home will stay toasty warm all winter long.
Fall Fashion
Kids will love the cool characterful clothes at Boden (up to 12.00% donation) and they've got plenty of decent pieces for adults too. For a wardrobe overhaul-in-a-hurry, ASOS (up to 3.00% donation) offers everything you need to inject some sophistication into your new-season look. For winter shoes and boots, Clarks (up to 5.00% donation) has got you covered with some really on-trend autumnal styles.
Autumn Entertainment
During the colder months, many of us will relish the prospect of a brisk weekend stroll to blow the cobwebs away then back home to curl up and watch a movie. With that in mind, why not join the National Trust this season (up to 1.50% donation) and explore their wonderful historic houses and gardens. For awesome in-house entertainment, a subscription to Now TV (up to £35.00 donation) ticks all the boxes, or, if you prefer to get your film-fix at the cinema, plan a trip to Cineworld (up to £4.35 donation).
Comfort Food
The start of autumn often triggers a craving for classic comfort food. Stock up on all the essential ingredients for a tasty stew or soup at Ocado (up to 3.00% donation) or Waitrose (up to 2.50% donation). If you don't fancy cooking, Just Eat (up to 2.00% donation) can deliver a huge variety of cuisines directly to your door.
Happy Halloween
Get organised for a frightfully fantastic Halloween. Visit My M&M's (up to 6.00% donation) and design some personalised trick-or-treat goodies for your ghostly visitors, or, if you're feeling retro, A Quarter Of (up to 3.00% donation) sells traditional goodies packaged the old-fashioned way. Dress to scare with a costume from Amazon (up to 1.50% donation) or Toys R Us (up to £1.50 donation) and get crafty and create some super spooky decorations with supplies from HobbyCraft (up to 5.00% donation) or Baker Ross (up to 1.00% donation). Stock up on party food and drink at Tesco (up to £3.00 donation) or Asda (up to £2.50 donation) and you're good to go.
Escape to the Sun
Finally, if the prospect of a long UK winter fills you with horror, snap up an October half-term bargain with Last Minute.com (up to 5.50% donation), or start planning your summer getaway through Expedia (up to 6.00% donation).
This is just a tiny snapshot of what our 3,300+ range of shops and sites can offer you this season. Browse our full list of retailers and start raising big donations for your cause as you shop for everything you need this autumn with easyfundraising.