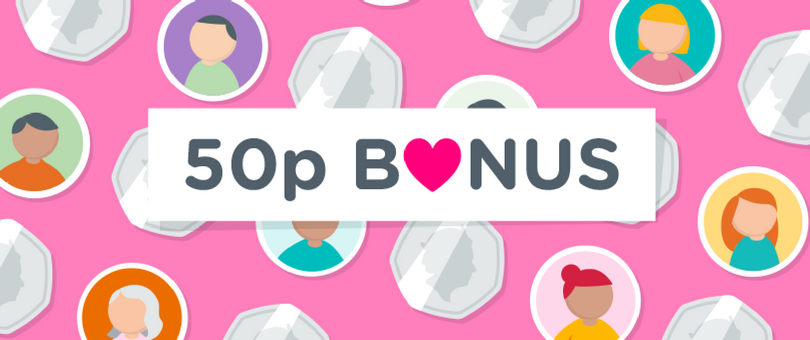 It's the most loved-up time of the year and the perfect opportunity to share the love for your good cause!
For a limited time only, we'll give our causes an extra 50p donation for every new supporter who signs up and raises a donation with easyfundraising.
This is a chance for you to grow your cause and give a big boost to your fundraising. To help you along the way, here are 8 ways you can get encouraging supporters to sign up today…
1. Use your Unique Referral Link
It's important to get your very own unique referral link and to use this on everything you share on social media, emails and texts, whenever you're encouraging supporters to raise via easyfundraising. This means that when a new supporter registers through your unique referral link, you won't miss out on receiving your bonus donation!
2. Set yourself a target
A great way to stay on track is to set yourself a goal for how many new supporters you're going to sign up each week. You can also keep updating your supporters on your progress and ask for their help to spread the easyfundraising word too!
3. Regularly post on social media
Our research revealed that causes who promote on their social media pages sign up 6 times as many supporters as those who don't! Don't worry about 'over-sharing' and wondering if supporters will get annoyed by constant reminders to sign up – not everybody sees every Facebook post! Check out Raise More where you can download colourful graphics to help you explain easyfundraising to your audience.
4. Get your supporters involved
By asking supporters to help share the love on social media, you'll reach a far bigger audience and more possible supporters in no time. There's no harm in asking them to simply share your social media posts and to tag their friends too.
5. Use Whatsapp and Messenger
You know just how easy is it to sign up to easyfundraising so message all of your contacts via WhatsApp and Facebook Messenger and encourage them to sign up there and then on their mobile phones. Share the easyfundraising app and let them know it'll take only a few minutes out of their day and what a huge difference they could make!
6. Show the difference using easyfundraising can make
Pictures tell a thousand words and new supporters are more likely engage with you after seeing images on Facebook of what you're raising donations for and how they've helped your cause! Use something eye-catching that will stand out in your supporter's busy timelines.
Shop on-line? If so, register with @easyuk & help us raise much needed funds for the dogs #rescuedogs #fundraising https://t.co/PkIknVqx3F pic.twitter.com/nmMhaJR3Wn

— Forgotten Paws (@forgotten_paws) February 10, 2017
7. Email your contacts
If your cause has a mailing list, send out an email to all of your contacts and ask them to help reach your sign up goal! Remind them how easy it is to sign up and to encourage their friends and family to do the same.
8. Hand our flyers
Good old fashioned posters and flyers work wonders in spreading the word quickly and easily to new supporters. Download and print our ready-made posters and flyers, making sure you include your unique referral link. You could hand them out at the next PTA meeting, sports club match or in your local charity shops! Anywhere you'll see new supporters.