The future of UK Sport: Why grassroots funding makes all the difference
Even the smallest of donations can pave the way for the stars of tomorrow
Our sporting heritage plays a huge part in the make-up of our nation. The London Olympics and Paralympics illustrated not just our pedigree on the track, in the pool and on the field, but it also created a glowing sense of pride across the nation. Our Olympians and Paralympians were normal people achieving super-human feats.
And they all started somewhere. Inspired by a coach at their local sports club; their early talent nurtured to achieve greatness. Currently in the UK there are over 150,000 grassroots sports clubs, with 8 million regular participants. Whilst top level athletes and sports stars including Jessica Ennis-Hill, Louis Smith, Rebecca Adlington, and Alan Shearer have been spawned from local clubs, it's not just elite sport that gains from their existence. They play a key part in our community, for kids and adults alike.
What does the future hold for grassroots sports clubs and are they getting the funding they need to survive and play their pivotal role in society?
UK Funding for Grassroots Sport
Currently 15.3million people play sport once a week every week. This is an increase of 1.4million since London first won the bid to host the Olympic Games. The Games had an effect and continue to leave a lasting legacy at both elite and grassroots level.
The year after the Olympics, Sport England promised to provide £493million in grassroots funding between 2013 and 2017.
When the report was first announced in 2012, there were both winners and losers. Football and cycling both came out well with an additional £30million of funding promised during this period.
The initial winners and losers were as follows:
Winners:
| Sport | Funding | Change |
| --- | --- | --- |
| Cycling | £32milion | Increase of £7.3million |
| Netball | £25.3million | Increase of £6.6million |
| Football | £30million | Increase of £4.4million |
| Triathlon | £7.5million | Increase of £2.8million |
| Equestrian | £6million | Increase of £1.9million |
Losers:
| Sport | Funding | Change |
| --- | --- | --- |
| Rugby League | £17.5million | Decrease of £10.1million |
| Rugby Union | £20million | Decrease of £8.8million |
| Cricket | £27.5million | Decrease of £7.7million |
| Tennis | £17.4million | Decrease of £7.1million |
| Judo | £6.1million | Decrease of £3.8million |
Various sports including tennis and swimming were given one year awards with further funding only becoming available if targets were achieved.
Taking a basic look at the numbers. With over 150,000 clubs in the UK on average each club would receive £3,286 across 4 years – less than £1000 a year. But with 15.3million weekly participants that's about £32 per person during this time period and £8 a year.
Is this enough to really make an impact? For many of those involved at the grassroots level, there simply isn't enough funding being apportioned from the top down.
Cllr Ian Stephens, chair of the Local Government Association's (LGA) Culture, Tourism and Sport Board, recently said:
"There is an ever-widening chasm between the grassroots game, which is being allowed to wither away by the football authorities through pitiful investment, and elite football.
"Sadly, as every fan knows, the current England team has been underperforming for decades. Next year will mark half a century since England last won the World Cup. This decline of a sporting powerhouse will continue unless the football authorities start giving grassroots football the funding it so desperately deserves and needs. This is the only way to ensure home-grown talent rises through the footballing ranks."
Grassroots sports feeding the professional level is only one purpose they fulfil. They're also essential parts of the community, offering kids and adults alike the opportunity to play regular sport. Funding from both Government bodies and external sources plays an integral part in keeping them going.
UK Participation Figures for Grassroots sport
The highest participation rates in the UK include swimming, athletics and football. Golf has also made it into the top five participation sports in the UK.
Top Five Sports for adults (16+) taking part once a week (shown as a chart)
Swimming – 2.7million
Athletics – 2.2million
Cycling – 2.1million
Football – 1.9million
Golf – 0.73million
A snapshot of participation numbers and clubs
With over 29,000 grassroots clubs, participation at all levels of football is still relatively high. Despite a worrying decline in participation in 2013 - which saw the Football Association lose £1.6m of Sport England funding 12 months ago - participation figures now seem to be on the up once more. Funding is as ever integral to ensure talent is nurtured adequately.
1.9 million adults play the sport once a week as an amateur, with 8.2 million participating in some capacity. Most encouragingly a 100,000 participation increase has been reported across 14-25 year-olds driven by FA initiatives to boost female and youth participation (this is where future England captains will come from). We've also seen a 14% increase in disability teams.
Amongst 11 – 15 year-olds, basketball is now the second most popular sport, with 32% of children participating.
Rugby Union has 2000 clubs based across the UK, feeding the nation's professional clubs and ultimately the national team.
All of these clubs place funding as one of their top priorities. Without it they wouldn't exist.
Grassroots Clubs and Elite Level Sport
Many of our current and former top level athletes owe much to grassroots sports clubs. It's where it all began.
Here are just some who have made the transition from talent at grassroots level to the world stage.
Hannah Cockroft – Cardinals Wheelchair Sports Club, Huddersfield
London 2012 Paralympics Games Champion / World Record Holder T34 100m and 200m
Greg Rutherford – Marshall Milton Keynes Athletics Club, Milton Keynes
Gold Medal Long jump – London 2012 Olympic Games
Greg had trials with Premier League football teamAston Villa before pursuing a career in athletics
His success as a sprinter in inter-school athletics persuaded him to join his local track club in Milton Keynes
He won gold in London aged 25
Jessica Ennis-Hill – Sheffield Athletic Club, Sheffield
Gold Medal – Heptathlon – London 2012
Lewis Hamilton – Rye House Kart Circuit, Hoddesdon, Hertfordshire
World Champion Formula 1 – 2008 & 2014
- Lewis started karting at the age of eight and was a champion by 10.
- He worked his way through Formula 3 & GP2 before being given his chance by McLaren in 2007.
- He became the youngest ever F1 champion in 2008 at the age of 23.
Paula Radcliffe – Bedford and County Athletics Club, Bedford
Paula joined Bedford and County Athletics Club at the age of 11 before competing at the World Cross Country Championships at age 16
- Six time world champion
- Seven time big city marathon winner
- Marathon World record-holder
Bradley Wiggins – Archer Road Club, London
- Gold Medal 2004 Athens Olympics – pursuit
- Tour de France winner 2012
- Gold Medal 2012 London Olympics – Time Trial
Rebecca Adlington – Sherwood Swimming Baths (now named Rebecca Adlington Swimming Centre), Nottingham
Britain's most successful swimmer– 2 Gold Medals 2008 Beijing Olympics, 2 Bronze Medals London Olympics 2012
Current world record holder 800m Freestyle
Wallsend Boys Club, North Tyneside
As arguably the most famous grassroots football club, Wallsend Boys Club has produced a host of Premier League footballers including:
- Alan Shearer
- Michael Carrick
- Peter Beardsley
- Steve Bruce
The difference that funding can make
Sally Freeman, Diving Manager at Plymouth Life Centre, where Tom Daley first started out highlighted the difference additional funding can really make.
"Plymouth Diving is a club remembered well for discovering Tom Daley, Tonia Couch and Sarah Barrow – all Olympic superstars. But it also is responsible for the identification of hundreds of new divers every year that all aim to follow in their footsteps and they do that with lots of training every week at the Plymouth Life Centre.
"Thanks to the success of Tom, Tonia and Sarah, these divers have the chance to train in a wonderful facility opened in 2012 following years of planning but also need to put their training into practice by competing around the country. These competitions give them the chance to qualify for National Championships but do cost the families thousands of pounds. Fundraising is essential to help these future superstars."
It's important for grassroots sports clubs to give the next generation of elite level athletes the best chance to succeed, with fundraising playing a key part. But it's just as important for the health, fitness and enjoyment of amateurs. Claire Hamlet, from PSL Panthers Netball Club in Bristol, sums up their needs.
"PSL Panthers netball club was established in 2007. We are a welcoming and diverse club with players of all ages from 14 to just under 60. The club has a strong focus on enjoyment and fitness with a little bit of competitiveness thrown in for good measure. At the moment we are looking to raise £500 for replacement of kit and equipment and contribute to the cost of our coaches. Fundraising is important as it enables us to keep our players subs down and our under 18 players subs half price, attracting younger players to the club. We believe it is important to provide our youth members with positive experiences that give them the chance to develop skills such as teamwork, trust and communication which they can apply to life outside of netball. After all they are the PSL Panthers of the future."
Ways to obtain funding for grassroots clubs
For all sports, especially those where funding from Sport England has been cut, there has to be other avenues to increase their income. Facilities need to be improved, adequate coaches sourced and those with the chance of succeeding need to be given every chance to do so.
Sports Clubs and Available Grants
Individual clubs have a variety of options to apply for grants, including, but not limited to:
Community Sport Activation Fund – a £47.5million Lottery Funded programme providing grassroots activity and grants at a local level administered by Sport England.
Awards for All England – distributing Lottery Funds for a small grants scheme of between £300 and £10,000, aiming to improve local communities and those most in need.
Boost Charitable Trust – to "champion the disabled and disadvantaged and to inspire them to overcome their challenges through the power of sport". Offering both small awards (£500 or less) and large awards (over £500).
Cash 4 Clubs – Sports Grant Scheme – any club that is registered with a sporting Governing Body can apply for awards of £250, £500, or £1000.
Community Amateur Sports Clubs (CASC) – providing tax breaks to not-for-profit organisations.
Sir Steve Redgrave Fund – aiming to use the power of sport to action positive change in the lives of disadvantaged children, young people and their communities.
Local Authority Grants – on application to the respective local authority.
easyfundraising and Sports Clubs
easyfundraising offers a simple and effective way for sports clubs to obtain additional funding. Simply by registering with easyfundraising.org.uk clubs are able to secure donations when customers use the site to purchase products from a wide selection of retailers.
Currently there are 11,510 sports clubs registered with the site, to which £258,816 was donated in 2014. Small contributions can make a huge difference, with fundraising through the site having a clear impact for clubs up and down the UK.
Fiona Davidson, Assistant Club Secretary at Aberdeen Amateur Athletics Club says "easyfundraising is a great way to raise funds for your club. We have raised nearly £2000 for Aberdeen Amateur Athletic club since we started with not too much effort. This money has gone towards our new timing equipment that all our athletes will benefit from."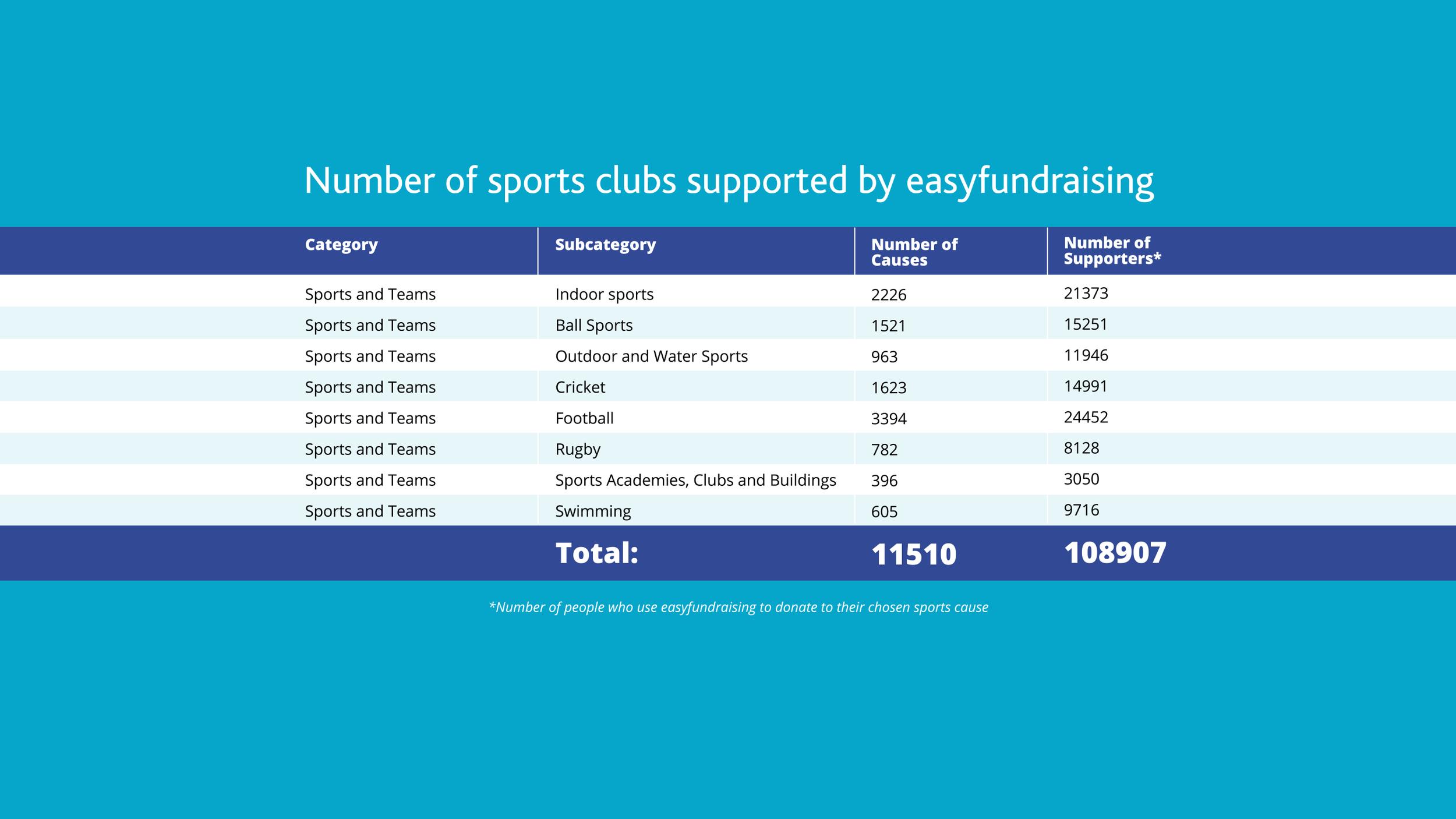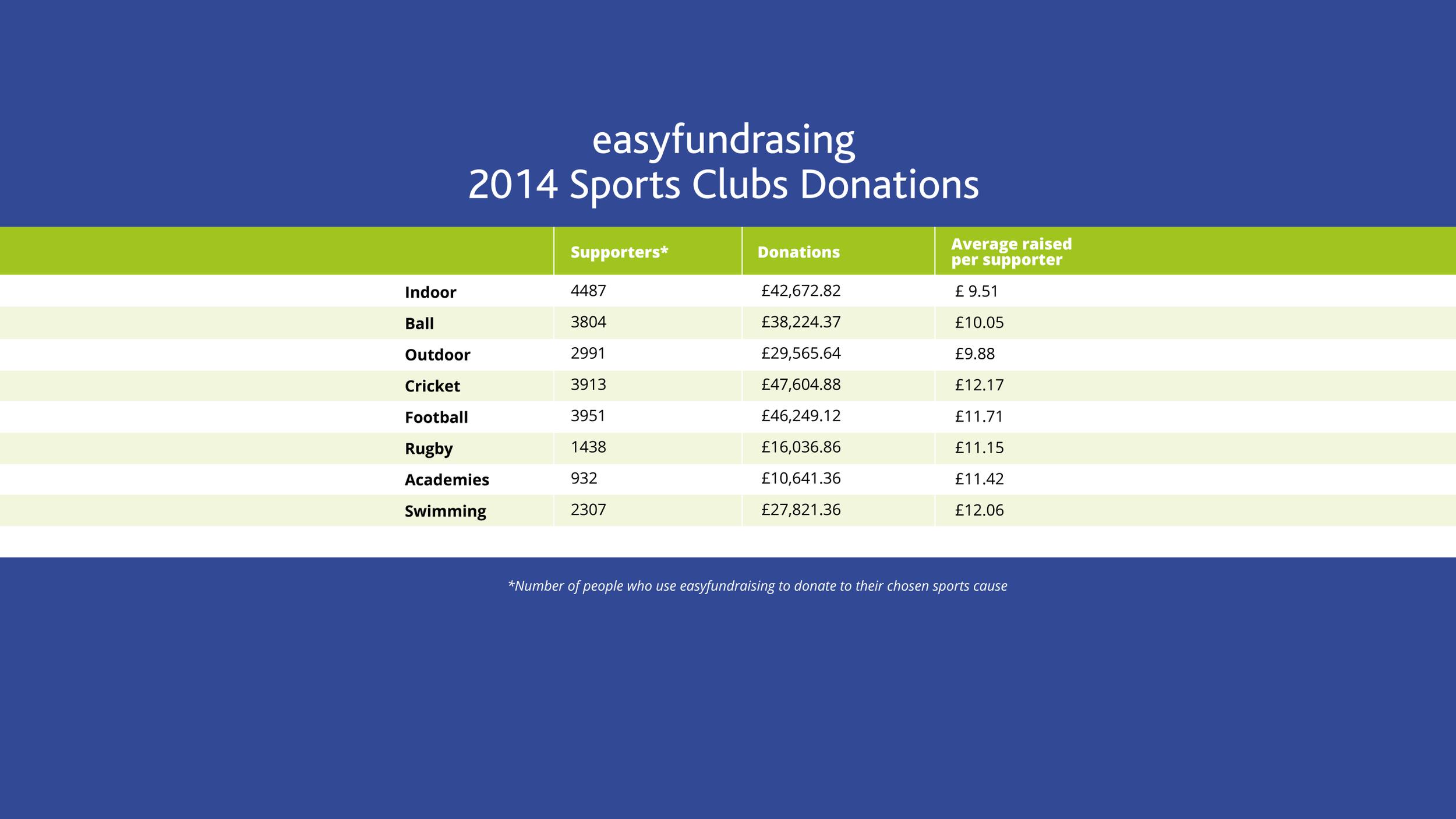 Grassroots sports clubs will always be relevant. They continue to change the lives of people of all ages throughout the UK.
It's time to make sure they not only stay in existence but continue to excel and play a pivotal role in our communities.