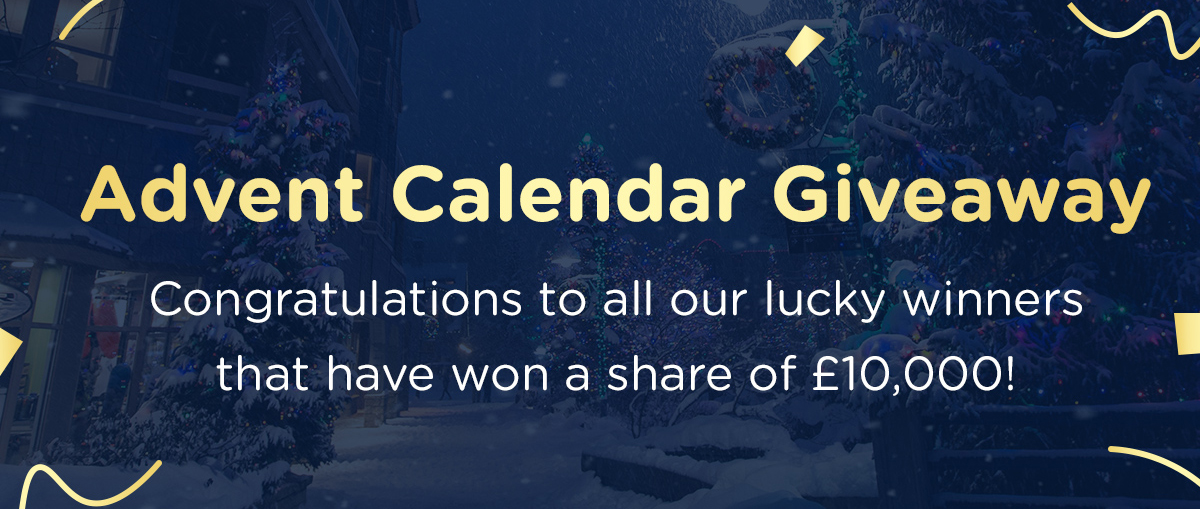 In December we gave our good causes a chance to WIN a share of £10,000 in donations and prizes with our Advent Calendar Giveaway. Plus, we had a Christmas Day Grand Prize Draw where one lucky winner won £5,000 for their cause!
We had a brilliant response to the giveaway and we'd like to take this opportunity to say a HUGE thank you and Merry Christmas to everyone who entered.
We're thrilled to confirm the winners below – congratulations!
Day 1 sponsored by Decathlon
£150 donation AND £100 gift card
"£150 is a huge amount for the charity to be gifted in a competition. All our members work hard to raise funds for school resources and extracurricular activities and this is a great boost! You've got to be in it to win it."
Won by Paul supporting Friends of St Pauls Farington Moss School, Leyland (FOSPS)
Day 2 sponsored by Waitrose & Partners
£125 donation AND £125 gift card
"What a wonderful surprise. I never win anything. The donation to our Athletics Club will help to buy much needed equipment for the young athletes."
Won by Mike supporting Kingston-upon-Hull Athletics Club
Day 3 sponsored by Groupon
£250 donation
"We're delighted to win a donation in the Advent Calendar Giveaway. It will be a fantastic boost to our World Challenge fundraising. Thank you so much everyone."
Won by Sarah supporting World Challenge Borneo 2020
Day 4 sponsored by Fitflop
£250 gift card
Won by Tamzin supporting World Scout Jamboree 2019
Day 5 sponsored by BT Broadband
£250 donation
Won by Lynn supporting Charnwood Rutland Netball Club
Day 6 sponsored by Very
Gift bundle worth £250
Won by James supporting Scripture Union Scotland
Day 7 sponsored by Hotel Chocolat
Gift bundle worth £250
Won by Jordon supporting Knayton C of E Primary School, Knayton
Day 8 sponsored by Tesco Grocery
£150 donation AND £100 gift card
"We work so hard to raise funds. As a charity no-one is paid, not even bosses, we're all volunteers. Every penny counts."
Won by Diane supporting K9focus Dog Rescue
Day 9 sponsored by ShopDisney
£250 to spend with ShopDisney
"Can't believe I won today's Advent Calendar prize – so shocked! Keep using easyfundraising to raise vital funds for Bristol Gig Club."
Won by Victoria supporting Bristol Gig Club
Day 10 sponsored by Moonpig
£250 Moonpig credit
"Wow I can't believe I won! I've entered every day and am delighted with my prize, a massive thank you to easyfundraising."
Won by Maria supporting Positive Impact
Day 11 sponsored by Oliver Bonas
£250 voucher
"So excited to win Day 11 on the easyfundraising Advent Calendar!! It's a marvelous way for us to support Paisley Abbey (founded in 1163) while doing our shopping online. Every penny raised helps us keep this wonderful building open for the whole of Paisley and all our visitors."
Won by Carol supporting Paisley Abbey – Renfrewshire
Day 12 sponsored by Carphone Warehouse
£250 donation
Won by Maria supporting Corpus Christi PTSFA
Day 13 sponsored by M&S
£100 donation AND £150 gift card
Won by Rachel supporting St Mary's Walkern
Day 14 sponsored by Harvey Nichols
£250 gift card
Won by Mark supporting Chesterfield Swimming Club
Day 15 sponsored by Sainsbury's Grocery
£250 donation
"I'm extremely pleased to be the winner of Day 15! The cause is helping go towards my daughter's Masters Degree! Every penny counts so thanks so much!"
Won by Jacqueline supporting Funds4Uni
Day 16 sponsored by Audible
£150 donation AND £100 Amazon gift card
"I was very pleased to win Day 16 of the Advent Calendar. I was even more pleased that Maxi Fun Club would be receiving a £150 donation as they do great work for local disabled children and young people and without the great work, they do my son wouldn't be able to take part in many of the activities he enjoys. Thank you very much."
Won by Natalie supporting Maxi Fun Club
Day 17 sponsored by Look Fantastic
£250 donation
Won by Lisa supporting Social Arts for Education
Day 18 sponsored by Etsy
£250 Etsy gift card
"Wow – thanks so much – what an awesome prize!! It's so exciting to win something just before Christmas!! Now I can give some extra special gifts to my family."
Won by Belinda supporting Coombe Hill Infant School – Kingston upon Thames
Day 19 sponsored by P&O Ferries
£250 donation
"Thank you so much for the £250 donation! This will make a huge difference to our rescue."
Won by Joanne supporting Good Life Dog Rescue – Leeds
Day 20 sponsored by Houseology
£250 donation
Won by Joan supporting Launceston Community Transport Partnership
Day 21 sponsored by NOW TV
£250 donation
"I am delighted to hear that I won the prize if £250 for my charity!
I really did not expect to win anything and thought my chances were slim even though I tried nearly everyday, so for me to receive an email to say congratulations is a huge blessing for me."
Won by Sulayman supporting East African Playgrounds Sulayman Gorilla Trek – Ahmed Sulayman
Day 22 sponsored by HomeAway
£250 donation
Won by Cathy supporting Bramcote College PTA Nottingham
Day 23 sponsored by First Choice
£250 donation
"I'm SO happy with the win! I never win anything! I'm supporting my daughter's Cheer Squads – Waves Cheerleaders and the sport is quite expensive so this win will greatly help them to reduce some costs for their athletes… so thank you!"
Won by Elecia supporting Waves Cheerleaders
Day 24 sponsored by TUI
£250 donation
Won by Marilyn supporting Chelmsford Community Transport
Christmas Day Grand Prize Draw!
£5,000 donation
Won by Margaret supporting Fortrose Free Church building fund