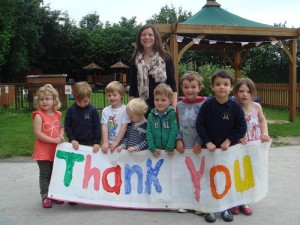 The children at easyfundraising cause Alderbury Pre-School are celebrating after winning almost £500 to buy a pirate ship for their outside play area.
After teaming up with Legal & General, we asked people to guess the amount of cash we fitted in to a 38DD bra for a chance to win the amount inside for their cause, plus the same amount for Cancer Research UK to help fund their breast cancer research.
PTA committee member and mum of two, Kate Macklin, who supports the pre-school by shopping online with easyfundraising, guessed £473 and was just 41p off the actual amount of £472.59, making her the winner.

Kate said, "I'm in shock! We're absolutely delighted that this amount will go to our Pre-school and also to Cancer Research.
"We'll put the money towards a Pirate Ship for the outside play area. This has been something the teachers have asked for for quite a while but we have never had the money to think about buying it."
The children

Our thanks go to Legal & General for helping make this possible