Our latest Cause of the Fortnight, where we showcase one of our causes for two weeks and highlight the impactful work they do, is Acorns Children's Hospice.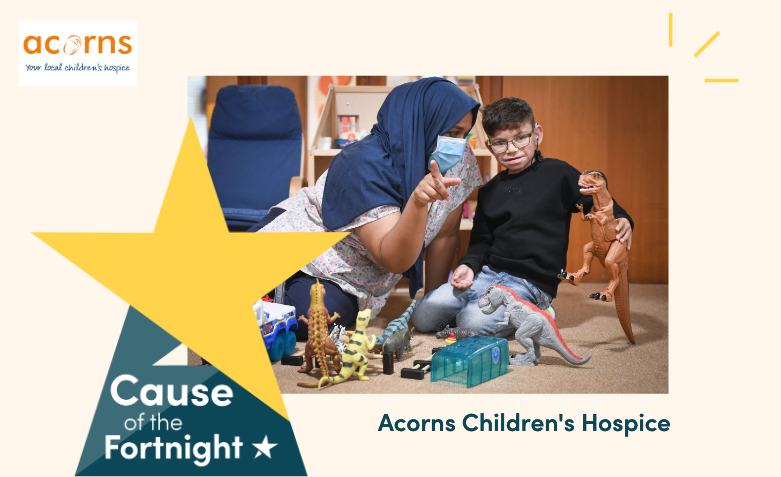 When the unimaginable happens and a child receives a life limiting or life threatening diagnosis, Acorns steps in.
Who is Acorns Children's Hospice?
Acorns Children's Hospice provides specialist palliative care for children with life limiting and life threatening conditions across the West Midlands and Gloucestershire, and support for their families.
At what is an inconceivably difficult time for many families, Acorns offers all-important short breaks, emergency and end of life care as well as support for the whole family, offering practical and emotional support to ensure families with a life limited or life threatened child are able to make the most of their precious time.
What do Acorns Children's Hospice do?
Acorns provides lifeline care for children and young people, and vital support for their families. In the past year, Acorns has cared for over 730 children and supported 940 families through all life's ups and downs, sharing fun and laughter in the good times, and standing alongside them in the tough times.
While the thought of a child being diagnosed with a life threatening or life limiting condition seems unimaginable, it is a reality for many families across the region. Knowing how precious time is when a child's life is limited, Acorns is there when families need them most and help to create precious memories that will last a lifetime.
Acorns offers both a homely and welcoming environment, as well as a range of activities to suit the needs of every individual. From therapeutic hydrotherapy and multi-sensory spaces to creative craft sessions, the charity provides a range of services to ensure the children and families it supports are able to make every day count.
Children visiting Acorns three hospices, based in Birmingham, Walsall and Worcester, can enjoy the outdoor spaces or simply enjoy home comforts, toys and games – anything to make their stay as restful or enjoyable as possible. Each hospice also ensures children have the space and means to make new friends, or just have some quiet time as they wish.
Alongside the world-class care Acorns provides for children and young people, the charity's specially trained Family Services Team offers much-needed support to families. These dedicated teams offer psychological, emotional, and practical assistance to families, including those who are bereaved.
The cause runs support groups and co-ordinates with outside agencies in order to support families to meet the needs of their child. Fundamentally, these additional support systems give families the tools and strategies to cope.
What challenges does Acorns face?
The cost-of-living crisis is a concerning time for everyone. At Acorns, their biggest concern is for the children and families they support.
Research shows that families caring for life limited and life threatened children will typically experience energy costs double the rate of other households.
This is due to a number of reasons. For example, the lifesaving equipment families use that is powered by electricity. Also, children with complex care needs may get colder quicker, or have health conditions that mean they cannot regulate their body temperature.
Acorns will continue to do everything they can to be there for the children and families who need them, as they always have, providing short breaks, emergency and end of life care, and vital emotional and practical support
.In terms of fundraising, like many charities, the majority of Acorns funds are raised through generous donations and fundraising by the local community.
In recent years, they have had to quickly adapt to incorporate big changes including a largely cashless society affecting public collections, a remote working culture impacting business fundraising, and the cost of living crisis affecting people's ability to give.
Acorns will continue to offer lots of creative and fun ways for people to support their local children's hospice taking all these factors into account; fundraisers to bring remote teams together, ways for businesses to support through a percentage of their sales, and easy ways for people to make a difference in their everyday lives.
Where do donations go?
Simply, donations go directly to the children and the families who rely on Acorns lifeline care and support.
As with all hospices, specialist equipment, staffing and running costs are all needed to keep a lifeline like Acorns going.
For many families, Acorns is able to take the pressure off, providing not only important practical care, but also emotional support.
Donations enable Acorns to continue their work providing essential specialist palliative care services to babies, children, young people across the West Midlands and Gloucestershire, and support for those closest to them.
To see an example of how donations can help, see Hugh's story here: https://www.youtube.com/watch?v=txw4a9sfCx4
How can easyfundraising help Acorns?
easyfundraising is a simple yet effective way for supporters to donate to Acorns and help them continue their vital care and support for families during some of their most challenging times.
Whether you are already a supporter of Acorns looking for other ways to donate, or a new donor looking to give to a worthy cause, giving has never been easier. Simply choose Acorns as your cause and shop at your favourite brands through the easyfundraising website or app to log your donation.
Every penny raised is used to enhance and assist the lives of children with complex life limiting and life threatening conditions – a truly worthy cause to consider this fortnight and beyond.
If you'd like to nominate your cause to be our Cause of the Fortnight, please join the easyfundraising community on Facebook @easyfundraisingcommunity