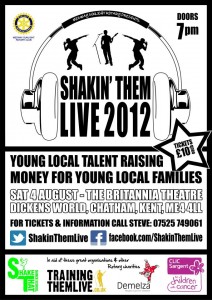 Move over Simon Cowell, easyfundraising cause Medway Sunlight Rotary Club are aiming to be the next star makers!
The Kent based club are organising a charity concert in August to showcase young local talent, as well as raise much needed money to help two local families.
All proceeds of the concert will go to Demelza House Childrens Hospital, Clic Sargent as well as other local charities.
The aim of the evening is to raise money for local families, specifically to raise enough money to send two families with a terminally ill child to a respite holiday to Disneyland.
So if you're anywhere near Chatham on 4th August, why not go along and show your support! Tickets are £10 each and are available from nicola_roesch@hotmail.com or you can find out more here: https://www.facebook.com/ShakinThemLive
You can support Medway Sunlight Rotary Club when you shop online with over 2000 retailers – click here to start supporting them