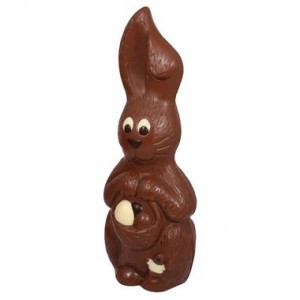 Bramble has been won by Eileen Sandham-Mulholland who supports 34th Rotherham Brownie Unit
—————————————-
Bramble Bunny is looking for a home – enter our Thorntons competition and he could be hopping his way to your house just in time for Easter.
About Bramble
From the creamiest melt-in-the-mouth milk chocolate and sweet dark chocolate detail you can be sure that this perfect little treat, with no artificial colouring or flavours, will surprise family or friends.  He's so cute, it's a shame to take a bite… but we're sure you'll manage somehow! And at 1.5kg, there's definitely enough Bramble to go around!
How to enter
All you  need to do is click here to visit the Thorntons website and tell us the answer to the following question:

[SURVEYS 52]
You have until 24th March to enter – good luck!