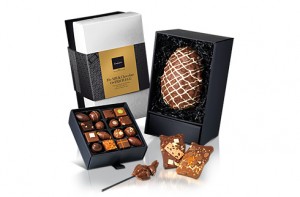 This competition is now closed. Find out who won here.
We love chocolate. We really do. And we know you do too so this Easter we're giving away five giant eggs from Hotel Chocolat.
It's a delicious prize – two huge shells cast in 40% milk chocolate, sprinkled with cookie pieces, crispies and chocolate chunks and then enrobed in more milk chocolate. YUM.
How To Win:
1. Click here to visit the Hotel Chocolat website and take a look at all the mouth-watering treats on offer.
2. Come back to this blog and tell us which Hotel Chocolat product you like best, who you would like to share it with and why!
You've got until Thursday 21st April to enter – good luck!
10% off
Until 24th April you can save 10% when you spend £25 or more with eVoucher code 'EFEGG11'. Oh and you'll raise a 3% donation for your cause too! Click here to shop with Hotel Chocolat