This competition is now closed, thank you to everyone who entered.
1st prize – Jane Billingham
2nd prize – Tracey Redfern-Jones
——————————————————————————————————————–
To celebrate Father's Day we've joined forces with our friends at Screwfix to come up with the perfect present for DIY dads everywhere.
We're giving away two fantastic prizes which are guaranteed to put a smile on his face on Father's Day – a Ryobi One+ 6 Piece Kit worth over £300 as first prize and a Forge Steel Tool Kit 31 Piece Set for the runner up.
How to enter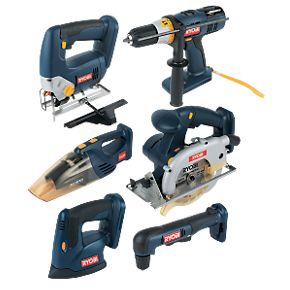 To win one these great prizes for your dad/husband/man in your life, we just want you tell us about when a DIY project went wrong.
Yes, although we expect dads to be great at DIY (it's part of the job description after all), the truth is that even the best DIYers have bad days.
So if a man you know has ever sawed the end off the table he was leaning on or superglued his hand to his workbench, we want to hear about it.
Or perhaps you are a dad with a DIY disaster story of your own that you'd like to confess. And if there is photographic evidence, we'd love to see that too!
About Screwfix
Screwfix is the UK's largest direct and online supplier of tools and hardware products, selling everything from nuts and bolts to belt sanders, sealants and adhesives, fluorescent lighting, drills and hammers, plasterers' bead and even kitchen sinks! 2% donation for your cause when you shop through easyfundraising.
The closing date for entries is Friday 10th June.