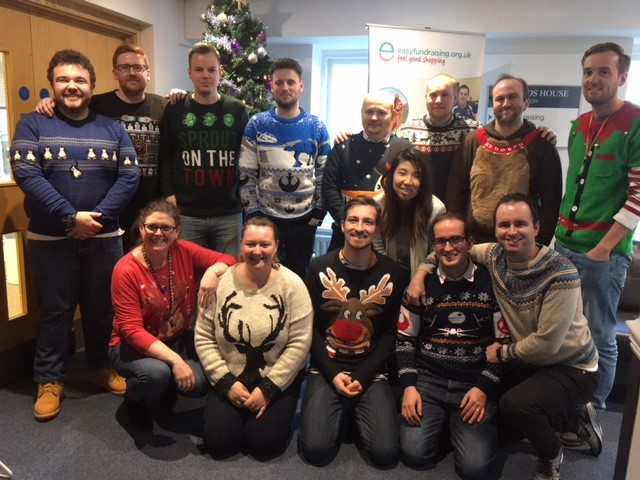 With Christmas just around the corner, we take a look at five easy ways that you can help fundraise this year
1. Christmas Jumper Day
Perhaps the brightest day of the year for workplaces around the country, Christmas Jumper Day falls on Friday 10 December 2021. Depending on your taste for flamboyant knitwear, just a whispered mention of the event is enough to bring seasonal bliss or strike festive fear into employees.
Nevertheless, if backed up by a good cause, it's hard to refuse such an opportunity to raise some money and have some fun along the way. Running a prize alongside the event helps ensure some friendly competition, providing basking rights for the remainder of the year to the crowned Christmas champion.
2. Giving Tuesday
As Black Friday draws closer with each week, the most eager of shoppers await the bargains that will take over almost every webpage and highstreet alike. If sifting through sales isn't to your taste, Giving Tuesday might be the answer.
Taking place on 30 November, the Tuesday following Black Friday, Giving Tuesday aims to provide a more wholesome experience to the shopping season. The day encourages individuals to help out in any way that they can. Whether you want to volunteer, donate, organise an event or even share your skills – all avenues are welcome in helping out good causes.
Due to the timing of Giving Tuesday, the event provides a great opportunity to leverage against the more commercially-minded retail dates. If you're a morally-conscious cause or simply an individual looking to do a tiny bit more, Giving Tuesday might be worth adding to your calendar this year.
3. Festive Bake Off
Cake sales and bake sales tend to raise a notable amount. So why not host one with a festive feel? Reindeer shaped gingerbread biscuits, traditional fruit cakes and classic mince pies will go down a treat!
4. Gift wrapping
A lot of people find themselves short on time when it comes to wrapping the gifts they've bought for their loved ones, or just aren't very good at wrapping. Offer a gift-wrapping service in exchange for a donation to your cause. Bigger donations could earn ribbons, bows, or other extras.
5. Organise A Raffle
More often than not, the success of a raffle often depends on the prestige of the prize. In a working environment, there's plenty of opportunities to get the office talking and take a few tickets off your hands. An extra day of annual leave during the busy festive period is worth its weight in gold, frankincense and myrrh. Plus, technically it doesn't cost your company a thing.
For charities and good causes, using your donations or reaching out to local businesses can help add to the allure of your winter winnables. In order to resonate with as many people as possible, it's best to try and diversify your prizes and capture as many interests as possible!
easyfundraising This Christmas
Alongside these five fundraising ideas, an even easier method is available through easyfundraising. By partnering up with over 6,000 retailers, you can point those interested in your cause to join us for free and start raising money straight away. By simply using our directory of retailers, each organisation will make a donation to your cause for every purchase made with them.
Our case study of Widnes Gymnastics Club is a great example of how to use easyfundraising. They found that by explaining our service during times when their supporters would already be shopping around, they were able to see more signups and even more donations. With Black Friday, Christmas and Boxing Day Sales just around the corner – this makes it a perfect time to start fundraising!
If you haven't registered your good cause with us yet, it's easy and completely FREE. Get started at: https://www.easyfundraising.org.uk/register-your-good-cause