Black Friday, the busiest online shopping day of the year, takes place on Friday 25th November and its set to be bigger than ever with £5bn expected to be spent across the weekend by Christmas shoppers this year!
If all of those shoppers were to shop the easyfundraising way for those bargains, an incredible £20.6 million could be raised for good causes and charities in the UK. That's why we have renamed it Give Back Friday – a great opportunity to encourage good hearted shoppers to give #MoreThanAGift this Christmas  and get their share of £20.6 million for their cause.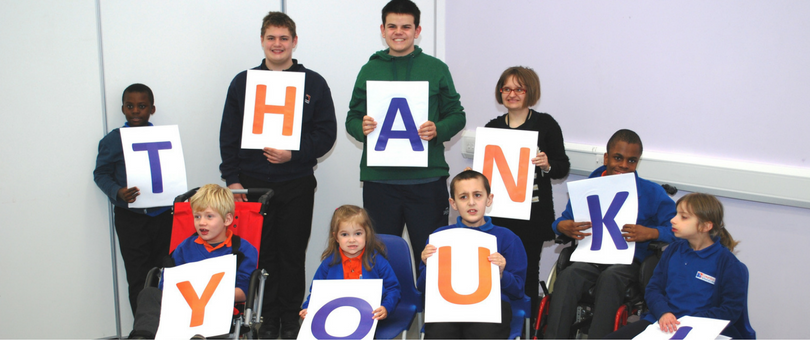 Last year, Friends of Columbus School and College in Chelmsford saw the opportunity to encourage their supporters to raise free donations on Black Friday, which resulted in the committee raising over £500 in the run up to Christmas.
We spoke to fundraiser Claire Rayner to find out how they successfully spread the word to parents and staff and how the festive boost to their fundraising helped support ongoing therapies offered to students at the Special Educational Needs School.
How do you spread the word about easyfundraising to potential supporters?
We are a committee that supports the school, which means we have access to a lot of potential supporters. We targeted our staff and parents via email and made it clear that easyfundraising would cost them nothing and that it was really user friendly. In addition to displaying posters within our campuses, we printed leaflets and our college students delivered them to the houses close to the school. We also ensured that we promoted easyfundraising via social media, which meant that our followers could share the posts and spread the word for us.
Did you do anything extra special around Black Friday?
We utilised social media to share the suggested posts provided by easyfundraising. We also encouraged them to download the Donation Reminder and App. We had already given it a big push to launch it within the school so that was great timing and we didn't need to do anything further. People seemed to be in the buying frame of mind already, with it being so close to Christmas!
What did you spend last year's donations on and what difference did this make to your cause?
Our school is one of the largest Special Educational Needs Schools in the country. We care for and educate children and young people aged 3-19. These fantastic youngsters have complex needs, many with life limiting conditions. All the money raised through easyfundraising is being used to provide therapies to help them achieve their potential.
What are you plans to promote easyfundraising this Black Friday?
We will continue to promote easyfundraising via social media and email. We have added a leaflet to our welcome pack for our new pupils, so hopefully we are covering all possible angles!
What do you plan to spend your donations on this year?
We will continue to use donations raised via easyfundraising for therapies. We want to ensure all our children and young people have the best possible opportunities when they leave Columbus. Therapeutic intervention is crucial to make this happen.
Outside of easyfundraising, what other activities do you undertake to fundraise at this time of year?
We are busy working on our Christmas Fair to be held at the school. We are also working very closely with our local Sainsbury's as their Local Charity of the Year to make the most of in-store fundraising opportunities. We are also delighted to have been shortlisted to the final three to win money to improve our outside play spaces, with Tesco Bags of Help and Groundworks.
If you're feeling inspired by Columbus' fundraising, you can download our Give Back Friday planner which has all the tools and ideas you need to spread the word to supporters!