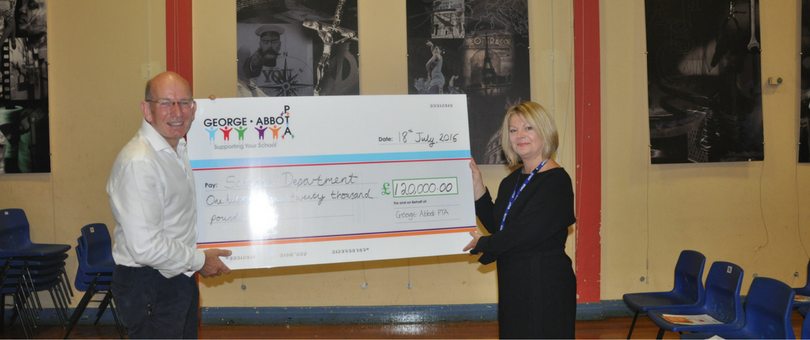 It is said that Christmas is the most wonderful time of the year and it certainly could be for thousands of causes when people do their festive shop the easyfundraising way! Just think of all the free donations that can be collected from over 3,100 retailers at this time of year. From turkeys to tinsel, thousands will be raised when supporters shop for gifts and essentials.
Last year, George Abbot School saw the opportunity to give their fundraising a festive boost and raised over £500 in the run up to Christmas.
We spoke to Julie Dickson, project co-ordinator, about how the school were able to encourage parents to Christmas shop the easyfundraising way and how the boost to their fundraising helped the school reach a fundraising goal!
How did you encourage parents and staff to shop the easyfundraising way last Christmas?
We sent out a special PTA email to all pupils, nearly 2000, and staff, around 150, at the school encouraging them to use easyfundraising before buying any Christmas shopping. We also encouraged them to download the free Donation Reminder and App. We also reminded parents on Facebook and Twitter.
What did you spend last year's Christmas donations on and what difference did this make to your cause?
We were raising funds to refurbish 3 science labs at the school and whilst this was a massive £120k project, we did achieve it this summer after 15 months of fundraising and easyfundraising certainly played a part in achieving that.
What are you plans to promote easyfundraising this Christmas?
We will definitely use social media again and highlight that with so many of us doing online shopping nowadays, it takes only one extra click to raise money for the school at no extra cost. We will also send out the PTA Friday email making sure everyone is aware that they can use easyfundraising for their Christmas shop. We'll also let the sixth formers know they can use easyfundraising too as they tend to buy their own Christmas shopping online.
What do you plan to spend your Christmas donations on this year?
This year, we are raising funds to buy the school a new Laser Cutter which will cost in the region of £15,000. This will be used in Design Technology and in Textile Design.
Outside of easyfundraising, what other activities do you undertake to fundraise at this time of year?
At this time of year, we run a Christmas Fair and a huge raffle, with an ambitious target of raising £10,000 this year. Later in the year, we run quizzes, a local Community run and some ad hoc events such as balls and disco's for parents.
Give your fundraising a festive boost by downloading your December planner. Follow us on Twitter and Facebook for more useful tips!