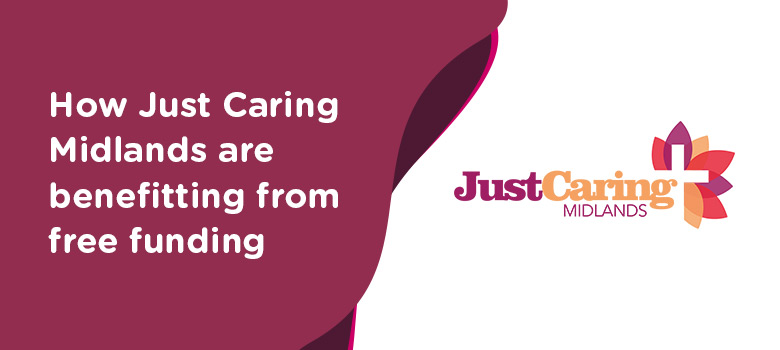 Birmingham based charity Just Caring Midlands offers a befriending and mentoring service to vulnerable young adults who are falling through the net of statutory services, or who need additional or on-going support. They receive no Government funding but offer their services free of charge.
They use easyfundraising to benefit from free funding and have so far raised £2703.
Chair of Fundraisers Sabeena explains how they make easyfundraising work for them:
Why did you register with easyfundraising?
Because we receive no Government funding, we are always on the lookout for fundraising initiatives that our supporters might like to get involved with. easyfundraising caught our eye as we realised it was a great way for supporters to raise money for us at no extra cost to themselves.
The money raised through easyfundraising goes towards the general running costs of the charity, helping us to keep supporting our beneficiaries.
You've raised almost £3k – how have you done this and how have encouraged your supporters to get involved?
easyfundraising is always high up on the agenda of our fundraising team; it regularly features in our newsletters and social media posts so that we can inform new supporters of the initiative whilst reminding long-standing supporters about it.
We make use of the marketing tools provided on the easyfundraising website and regularly use wording and links that they email to us too.
We generally post on social media when there are promotional offers such as 'Double Donation week', during periods of more focussed fundraising, and in the run-up to Christmas.
As well as featuring in our newsletters, information can be found on our fundraising leaflet, and there is a link to sign up on our website.
We love that the app shows the top 10 supporters as we know people enjoy watching themselves moving up the board!
As a charity we are really enthusiastic about it and this probably serves to encourage supporters to get involved.
What do you think about easyfundraising as a way for voluntary groups and charities to fundraise?
Shopping online is increasingly the norm for many of us, and easyfundraising is the fundraiser's (and hence charity's) dream! It allows people to raise money for charity when they shop online at no extra cost to themselves.
Most donations are a few pence, but those pennies really do add up. However, the bulk of the total we have raised comes from supporters buying insurance, changing utility provider, and booking holidays or business trips online. They bring in pounds at a time
Would you recommend it to other good causes?
We would highly recommend it. It's fantastic that supporters can help make a significant difference to people's lives simply by doing online shopping.
Most people do want to support charitable causes; with easyfundraising, everyone can. From a charity's point of view, we are grateful to have a means by which people can support us without having to give up more of their precious time and money, though we know people are very generous with both (thank you, supporters!)
As well as this, easyfundraising is easy to use and is efficiently run. It's a hassle-free initiative that brings in funds without us having to do anything but advertise. So, we consider easyfundraising to be a really positive service for charities but also for those supporting them.
Are there any tips you would share with other good causes to help them make the most of it?
Be deliberate in making it your aim to get, say, 100 supporters signed up, and once you've achieved that, set the bar higher
Encourage supporters to use the app
Encourage supporters that small donations add up very quickly, but remind them of retailers that give more
Do all you can to keep easyfundraising in the forefront of supporters' minds
Don't forget to thank people and let them know what a difference they are making.