One of the comments we receive from our members is that they sometimes forget to visit easyfundraising before starting to shop, meaning they miss out on a valuable donation for their cause.
So with this in mind, our team of technical elves came up with 'Find & Remind' – a very simple solution to the problem.
Here's how it works: once you download the Find & Remind tool, you'll get a little reminder at the top of your screen when you visit a retailer that we work with, letting you know that a donation is available:
Simply click on that reminder message and it will activate the donation link – so when you make your purchase, your cause will receive the donation: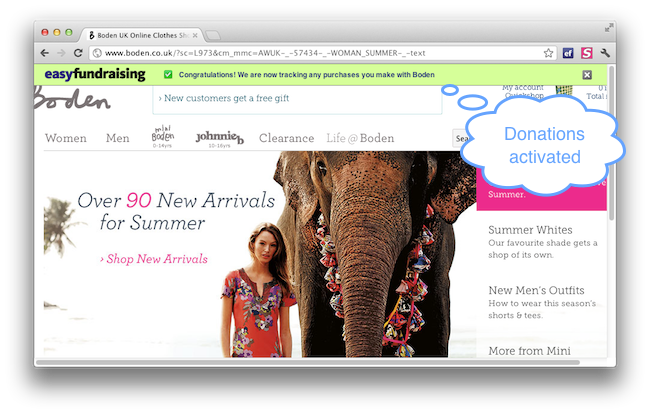 And if you search the web with Google or Yahoo,  our partner retailers are clearly highlighted in the search results, showing you which retailers will donate to your cause when you shop with them: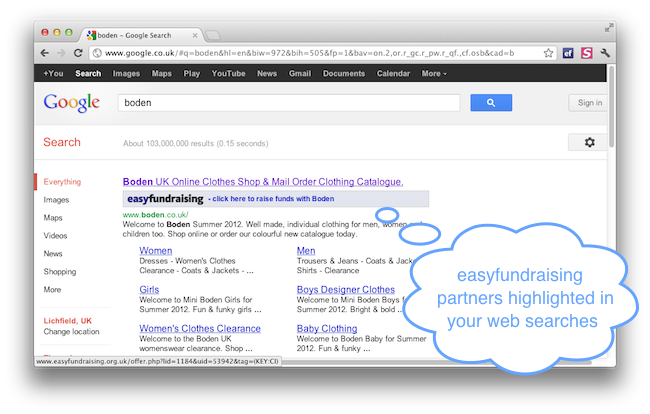 It's pretty simple but very effective – members using Find & Remind are raising up to 5 times more for their cause.
50p donation when you try it
We'd love to know what you think of it  – and as a thank you for trying it out, we'll donate 50p to your good cause when you install it.
Click here to start using Find & Remind – and please let us know what you think!