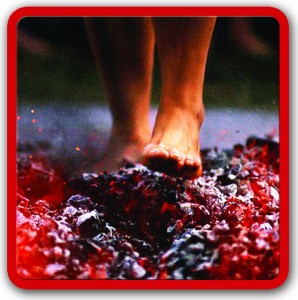 We've always known that our members are passionate about their causes but we've just heard about one easyfundraiser who's really going out on a limb to raise some cash for hers.
Brave (or crazy, depending on how you look at it) Claire Davis is planning to firewalk – yes, you heard right – in aid of her cause, North Birmingham Cats Protection.
On the 26th March, Claire will walk through hot burning embers across an area measuring 20 feet in total length – in bare feet! The event, which takes place at RAF Cosford in Shropshire, is being organised by West Midlands Cats Protection.
Claire says, "After a hard day at work, and feeling quite low, I got home and opened my emails. I read the first one and had a very strange feeling of being uplifted, I also felt sheer excitement! A 20 feet walk across hot burning embers in BARE FEET! I just could not wait to do it!"
I have no idea why I had those feelings when I thought of doing this terrifying walk as I'm really petrified of fire. But I was so excited about it that I picked up the phone and tried to rope in a few friends – after all, this was for a charity close to my heart -but they all declined!
That night I woke up in the early hours thinking it was all a dream. Then I thought it through, and realized it wasn't a dream at all and I really had signed up for the challenge!
Well it's for all those cats and kittens that desperately need us humans to step in and do something to help. Who else can help but Cats Protection?  Their hard work reaches out to neuter and castrate feral cats and replace them in there preferred way of life.
If they are young enough we can work hard over a period of time to domesticate them and successfully find those life long permanent loving homes. Some cats are unwanted, some rescues, others in need of urgent medical treatment.
We need to raise funds in order for this work to continue.   And for that reason, I'm walking on that fire path!

How do I prepare for this event? I have no idea, but I just hope I can raise enough to make the difference for the cats of NBCP and I hope I'm still feeling brave enough to face the flames!"
If Claire looks familiar, it's because she was the star of a recent easyfundraising video about the work of Cats Protection:
[efvideo]5cKZvkN0OaU[/efvideo]
Cats Protection is the UK's leading cat welfare charity, rehoming and reuniting 55,500 cats and kittens a year through its nationwide network of 29 adoption centres, 253 voluntary-run branches and one homing centre.
You can help North Birmingham Cats Protection raise funds when you shop online – click here. There are many Cats Protection branches registered with easyfundraising – click here to see a full list.