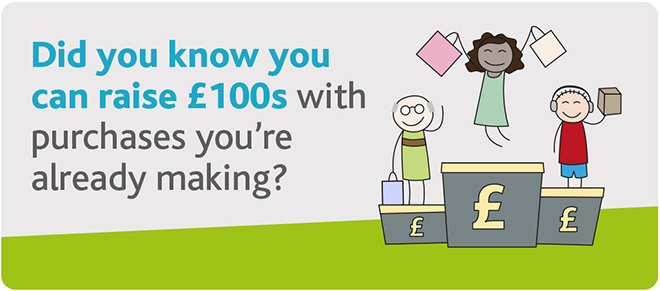 We want to let you into a secret that'll will help you raise £££s for your favourite cause!
We all know there are lots of donations to be raised from every day shopping like clothes, gifts and groceries. But, what about all of your must-buy purchases like insurance and utilities? Or your big purchases like holidays and TV & broadband?
It might be just one or twice a year but they're the things that we all buy and that can raise a lot of money in a single transaction. Quite often they'll be things that you buy annually, like your insurance, so you can raise big donations every year!
Let us demonstrate! We'll start with the fun stuff…

There are reports that the average Briton spends over £1,000 a year on holidays and a typical family of 4 spends nearly £3,500 on their annual break. Book with your usual travel retailers via easyfundraising and you could raise £100s!

Not as fun as booking a fortnight in the sun but a purchase we all have to make! We've got providers offering donations for all kinds of insurance cover; from cars to pets and houses to weddings!

We've all got a mobile phone and you can raise a donation when you switch your network, upgrade your tariff or change your handset.

Another great one for raising substantial donations and often savings for yourself too! Perhaps you're considering a new entertainment package ahead of the World Cup or you're looking around for the best value deal. Shop via easyfundaising and you could raise up to £60 for your cause!
Don't miss out!
You might not to make these purchases right now but you can still raise donations when you do. The best thing to do is to set yourself a reminder in your calendar or a note in your diary to shop via easyfundraising when they are!
Top tip!
Have you got the Find & Remind toolbar installed on your computer? It's a free tool that reminds you when a donation is available when you're shopping online! Install Find & Remind now and make sure you don't miss out on these big donations!
Remember to share your stories of big donations in the comments section below or over on our Facebook page! Spread the word and help other shoppers raise more for their favourite causes too!
Happy fundraising!
N.B. Donations can change. Those quoted above are correct at time of publication.