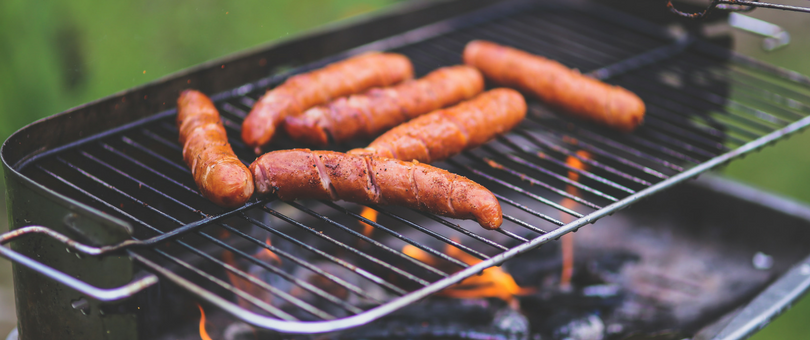 You can shop for all of your British barbecue essentials the easyfundraising way, adding big donations to your fundraising for your cause. Those juicy burgers will taste even better knowing you're making a difference to your cause by simply enjoying yourself in the summer sun.
So get the charcoal hot, have the jug of Pimms at the ready, and the burger baps all cut up, it's time for a good old fashion British barbecue the easyfundraising way….
All fired up
If your barbecue is in need of an upgrade, our retailers have lots of options that can help you raise big for your cause.
John Lewis (raise up to 1.75% in donations) has a wide selection of barbecues suiting all budgets. From the super high-tech Landmann Avalon 5.1 Gas Burner BBQ, to the more modest Dancook Deluvxe 7300 Charcoal BBQ. John Lewis is also giving away free barbecue covers worth £59.90 when you purchase a barbecue from the Weber barbecue collection.
There's a huge range of barbecues available at B&Q (raise up to 0.50% in donations), including gas, plancha and charcoal grills, and masonry barbecues so you can cook al fresco even when the weather isn't great! You can also get bags of charcoal delivered from B&Q so you have plenty in stock.
If you're limited for outside space, Wilko (raise up to 2.00% in donations) has a wide selection of handy portable and disposable barbecues.
Something to sit on
Sit and dine outside in style. There are plenty of places to get your garden furniture and raise too.
Marks and Spencer (raise up to 1.50% in donations) is currently offering 40% off their garden furniture range. From stylish comfy seating from the rattan range to traditional wooden garden sets and weather-resistant metal furniture, there's plenty to choose from that will help you boost your donations for your cause.
Argos (raise up to 0.75% in donations) also do a wide range of garden furniture to suit all budgets, including the super-comfy 3 Seater Rattan Effect Mini Corner Sofa so you and your guests can recline in comfort after filling up on all that delicious barbecue food.
Much more than burgers and bangers
You can get a huge selection of barbecue favourites delivered to your door from our supermarket retailers.
Impress guests with big juicy prawns from Waitrose (raise up to £2.50) along with delicious vegetarian options. Look out for special promotions this summer, like their 3 for £10 offer on all BBQ food.
Tesco Groceries (raise up to £3.00) has top offers on barbecue food, including 3 for £10 and 2 for £7. Tesco has a great range of marinated meats, including Maple BBQ Pork Loin Steaks and Garlic and Herb Chicken Kebabs, all ready to go on the grill.
Enhance all those lovely meat and veggie options with some delicious sides. You're also going to need plenty of bread options for those burgers and sausages.
Ocado (raise up to £3.00) has some delicious barbecue recipes on their website, including corn on the cob with smoky chilli, and foil-baked strawberries with Pimm's and clotted cream. All the ingredients can be delivered to your door from Ocado and you'll get £20 off your first shop. To save time, you'll also find bags of fresh salad readily prepared.
Morrisons Grocery (raise up to £3.00) has a good selection of bread rolls and burger buns along with plenty of snacks, including hummus and crisps, to keep hungry guests going whilst the meat is cooking. You'll also find a range of sauces, including burger sauce and barbecue sauce, which are a must. There's free delivery on your first shop too.
Wet the whistle
Get the true taste of summer with a wide of range of drinks options from our retailers, including plenty of special offers.
Sainsbury's Groceries (raise up to £1.50) often have deals on wine, such as 25% off when you buy 6 bottles and various beers are discounted too.
With Tesco Wine by the Case (raise up to 2.50% in donations) you can choose from over 1,000 globally sourced wines and champagne and Majestic Wine (raise up 3.50% in donations) offer free delivery on a wide range of wines from all over the world. While Waitrose Cellar (raise up to 3.00% in donations) offer no minimum order, and will deliver your wines to your door.
TheDrinkShop (raise up to 2.5% in donations) offers a delivery service of the largest range of drinks, including 150 vodkas, 200 liqueurs, 300 malt whiskies and many more. They also provide bar and cocktail equipment, wine accessories and ice sculptures.