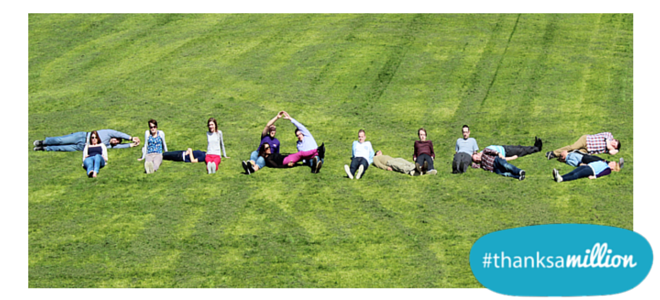 Wow! This quarter we are paying out a huge £627,971.29 in donations our causes and supporters have raised simply through online shopping!  This really is an incredible achievement and we salute each and everyone of you!
We know how much the devotion of your supporters means to our good causes so we're here to help you say thanks a million! And as a little nudge to get involved we're giving you the chance to win an extra £100!
How to take part:
1. Take a photo that shouts THANK YOU.
Be as creative as you like, from a thumbs up with this card or the cheesiest grin you can pull, to writing cheers in the sand and human pyramids, there are a million ways to say thanks a bunch.
2. Tell the social world.
Post your photo on the easyfundraising Facebook page with #ThanksAMillion or tweet @easyuk with your photo and use #ThanksAMillion
3. Entry complete
That's it, you're entered – now share your photos on your social platforms and spread the word even further
Time to get snap happy. Good luck!
P.S. If you need a little helping hand, download our #ThanksAMillion selfless selfie guide: