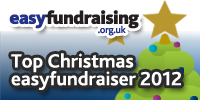 This Christmas the easyfundraising team will be battling it out to see who can raise the most for their cause.
The rules are simple. Whoever in the easyfundraising.org.uk team raises the largest amount for their chosen good cause between Monday 12th November and midnight Thursday 20th December will be crowned the 'Top Christmas easyfundraiser 2012' and on top of that, will win a special 'mystery prize'.
Get involved and set up an easyfundraising.org.uk challenge or competition between your colleagues and friends!
Gather your friends, family and work colleagues and and raise more money for worthy causes this Christmas!
Introducing your own competitive element to easyfundraising.org.uk this Christmas is a really easy and cheap way of encouraging more people to raise when they shop online.
Perhaps create your own leaderboard in the office or at home?
Or alert your administrators to any donations who in turn may grant you entry into their own fundraising initiatives or competitions (if they have one).
There's loads of things you and your cause admin could do yourselves to make your fundraising fun!
Why not share your ideas below?
And, there's no better time to do it!
More money is spent online at Christmas than at any other time of year!
So get involved, spread the cheer, and let's raise as much as possible for great causes!
See who the easyfundraising.org.uk team will be raising funds for, below;
May the best fundraiser win!
Also don't forget, we're giving away £5,000 to good causes this Christmas, and you can help win your cause a share of the prize! Find out more
Give more than just gifts this Christmas;