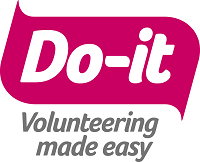 Created and managed by the charity YouthNet, Do-it makes finding out about voluntary work and giving time to local communities quick and easy. With around 1 million volunteering opportunities to choose from, there's something for everyone!
Volunteering opportunities at the click of a mouse….
With over a decade of experience and a mission to "make volunteering easy", Do-it now has over 940,000 registered volunteers and this is growing exponentially with around 18,000 new volunteers registering each month.
Volunteers can offer their time for a variety of causes, from health and social care to environmental to art and culture from over 28,000 organisations across the UK.
Want to get involved?
Simply visit the Do-it website, www.do-it.org.uk, and enter your postcode to find the volunteering opportunities available in your local area. Once you've found one you like, simply click "apply", complete the registration form and your profile will be automatically emailed to the organisation recruiting for that role….easy!
If you're a non-profit organisation looking for volunteers, find out how to get your opportunities on to Do-it here: http://www.do-it.org.uk/partners or contact rosie.longden@youthnet.org .