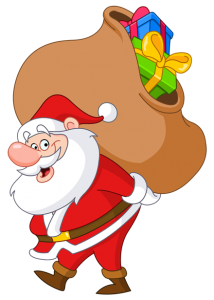 In December we challenged you to guess how much money Santa had in his sack for a chance to win that same amount for your cause.
Many people came very close indeed and in the end, two easyfundraisers guessed the correct amount of £251.20, winning £125.60 each for their causes.
The two lucky winners were Michelle Ireland who supports Peasedown Methodist Church and Fiona Thomson who supports Ryton Methodist Church – pure co-incidence that they both support Methodist Churches!
Michelle told us, "We will be using the money to help with two events – in the summer we run a free three-day 'Holiday at Home' event for some of the older and more isolated residents in the community – this would help to fund the meals and activities. Also we are having our biannual church weekend away and there will be 77 people going, of which over twenty are young people who are in fulltime education. We like to fund their places so this will be really helpful."
Fiona's church are not sure yet what they will put the money towards but Fiona told us: "That's great news and lovely that it will be a boost for another congregation too!"
A big thank you to everyone who entered. Why not have a go at this month's #easyfundraisingvikingchallenge for a chance to win £200 for your cause. Click here to find out more and enter.