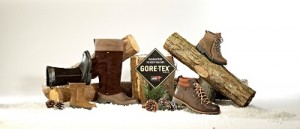 The winning entry was from Julie Ward who supports Jack Drum Arts, with "they hold body and sole together in all weathers!"
——————————————-
Clarks have partnered with Gore, the people behind GORE-TEX® product technology, to create a beautiful collection of shoes and boots for the whole family that are as stylish as they are practical.
And to celebrate, we're giving you the chance to win £200 to spend at Clarks on the GORE-TEX® range!
About GORE-TEX®
The combination of comfort and protection is due to the material's microscopic pores that are 20,000 times smaller than a droplet of water which stops water from getting in. Pores that are 700 times bigger than a water vapour molecule let perspiration out. This combined with Clarks' own specialised materials is like having your own private climate control for your feet. No matter where your family is headed this autumn winter, our collection of stylish shoes and boots with GORE-TEX® functionality will keep you comfortable and dry without compromising on style. Click here to visit Clarks
How to enter:
Simply complete the following sentence – the one we like the best will be the winner!
"GORE-TEX® and Clarks are the perfect pair because……"
Competition ends 30th November – good luck!