Last night my colleague Tracey and I worked the nightshift as volunteers at Birmingham Christmas Shelter.
This amazing place offers a warm bed for night, food, showers and much more for one week over the Christmas period to anyone in need.  It's also an easyfundraising cause so we wanted to go along, see what it's all about and support them as much as can.
As we picked our way across a snowy carpark to start our shift at 9.30pm, we were a little nervous and not really sure what to expect. But we were soon put at ease by the other volunteers who showed us the ropes and set us to work in the kitchen making and serving hot drinks to the guests and washing up.
The Shelter is usually fairly quiet on the first night so there were only around 30 guest bedding down for the night. It was our job to sort them out with mattresses and blankets and make them feel at home. Without exception the guests we met were friendly and courteous and the atmosphere at the Shelter was good.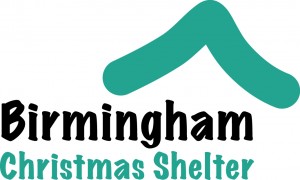 Once lights were out in the main hall and the majority of guests asleep, we spent some time sorting through bags of food, clothing and toiletries which had been donated to the Shelter from a variety of individuals and companies. Guests who need replacement clothes are given whatever they need, including underwear, shoes, gloves, coats, hats and more.
As the night went on, more guests arrived, chilled to the bone as the temperatures outside went well below zero. Each new guest was offered something to eat and drink and a bed for the night and each guest, regardless of race, sex or religion, was treated with the same respect.
At around 1am, Mike Davey, the trustee on duty for the night, suggested we headed home as everything was peaceful at the Shelter. And so we went home to our warm beds, thinking of the guests we'd met, feeling in awe of the dedication of the volunteers and trustees who make it possible and of course feeling very grateful for all we've got.
Earlier in the night I'd chatted to another trustee, Steve Johal, and he summed things up perfectly: "Everyone who helps the Shelter makes a difference to our guests in some small way, no matter whether they work a one hour shift or the whole week. Every little bit of support is appreciated by the Shelter and the guests."
If you would like to volunteer with Birmingham Open Shelter, you can find out more here. To raise funds for the Shelter when you shop online, click here.