Congratulations to our winners of April's Good Cause Giveaway!
April saw our friends at Viking give our causes the chance to win a share of £500 when their supporters shopped twice in April in our monthly Good Cause Giveaway!
1st prize winner
This month's top prize winner is North Yorkshire Moors Railway, who won an amazing £250 in free donations.
We spoke to April's winners to find out a bit more about their cause, and how these extra donations will help.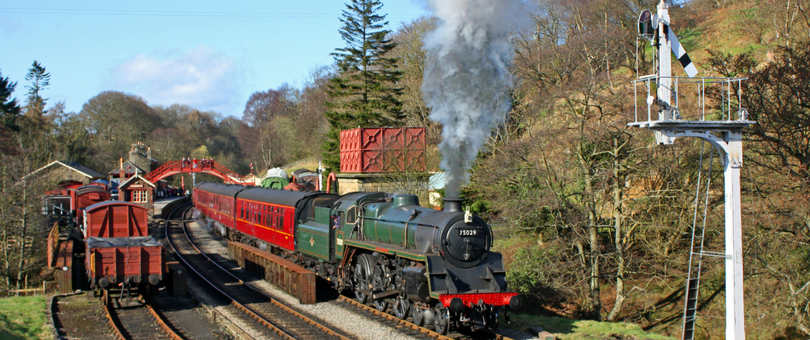 North Yorkshire Moors Railway is a preserved historic railway stretching for 18 miles through the heart of the North York Moor National Park. The North York Moors Historical Railway Trust is a not-for-profit charitable organisation run as part of the local community with day to day operations carried out by volunteers with railway operations and business experience.
Peter Fisher from the organisation said:
We are chuffed to win something via easyfundraising and Viking UK. Every donation made goes a long way towards the upkeep of heritage rail travel. Each year, the railway costs over £6 million to operate and preserve and every donation received and each visitor that travels on the railway contributes towards preserving our locomotives, rolling stock and infrastructure. With such a generous donation, this will go towards the upkeep of our locomotives. Every ten years a steam locomotive requires a full overhaul (seven years if the loco runs on the main line), this can be quite costly, sometimes as much as £750,000, depending on the work required at the time. Easyfundraising is a great way for charities to earn money on goods that supporters are buying anyway. It's easy to use and has given our charity a constant stream of income since we joined. We would definitely recommend it to other charities."
Runners up
As part of the giveaway, there were also 5 runners up, each winning a £50 donation for their good cause.
One of our lucky runners up was Daniel Bergman, who won a £50 donation for his World Challenge Costa Rica Trip.
Daniel will be travelling to Costa Rica for 30 days in order to work with the local community and helping out with a school as well as develop his skill in speaking Spanish as part of his A-level studies
Talking about how this prize will help with his fundraising efforts, Daniel said:
I am delighted that I have been awarded this donation.  I am extremely grateful to Viking UK for offering this generous donation. I would happily recommend easyfundraising to anybody."
In September this year, I am going on an adventure to Madagascar where I will cycle 350km! Training is well underway and fundraising is going well. The money I raise will go to The Genesis Research Trust, a charity that supports research into miscarriage, infertility, stillbirth, premature labour, IVF and other conditions that affect the health of babies. I chose this charity as it is one close to my heart.

The extra £50 really help towards my final fundraising goal of £3500- I am almost there! I would also like to thank Viking for their generosity.
Another runner up was Pilgrim Homes, part of the Pilgrims' Friend Society, a charity founded in 1807, to support older people.
Louise Morse from the charity said:
This £50 will go towards the cost of care.  Social funding for care is so low that if we weren't a charity, with volunteers who support us financially as well as practically, we wouldn't have the money to care for people who can't pay for themselves. I would like to say to Viking –  a thousand times thank you! I think easyfundraising is a brilliant idea.  The name says it well:  it makes it easier to raise funds for charities, and it is a way that retailers can give without making a huge song and dance about it.
If you fancy winning free donations for your cause in May, make sure you encourage your supporters to Shop, Shop, Win to win a share of £1000 thanks to our friends at Npower!