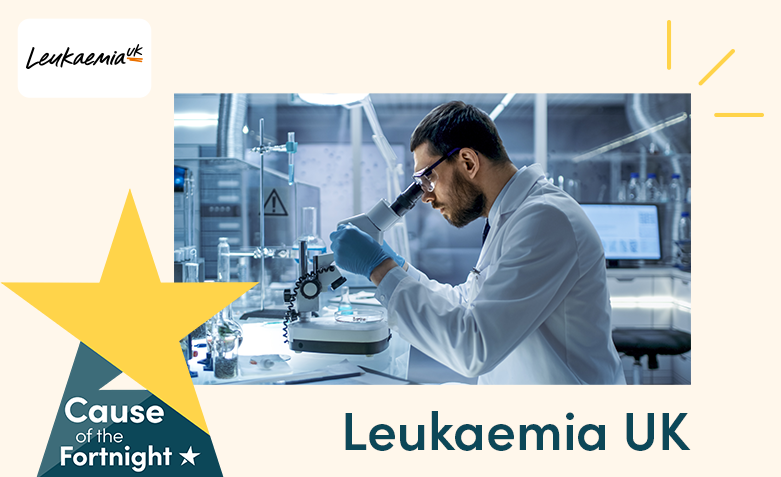 Our latest Cause of the Fortnight, where we showcase one of our causes for two weeks and highlight the impactful work they do, is Leukaemia UK.
We spoke to Becky McKeown, Corporate Partnership Manager at Leukaemia UK and asked how easyfundraising helps.
Could you tell us a bit about the charity? Why was it set up and what is your mission?
"We are Leukaemia UK. We believe research has the power to stop leukaemia devastating lives.

Leukaemia doesn't discriminate. It affects people of all ages – from babies to grandparents. More people are living longer with leukaemia but, despite decades of progress only half of leukaemia patients live longer than five years after their diagnosis*. We won't stop until we change this.

What if through research, we could accelerate progress and improve the lives of people affected by leukaemia today and in the future? By bringing together the experience and expertise of people who are living and working with leukaemia, we will do everything we can to make sure that the next person diagnosed has the best possible experience.

We are building a research programme based on evidence and our insight from patients and from the scientific and healthcare community. Our research work will tackle needs and fill gaps to ensure we meet what matters most to the leukaemia community.

We will be guided by our supporters, researchers, healthcare professionals and people living with leukaemia to fund and prioritise the leukaemia research that matters most, helping improve the patient experience, from diagnosis to treatment and care. "
What the donations will go towards?
"We will treble our investment in life-changing initiatives and research over the next five years, funding innovative research to discover kinder and more effective new treatments, and funding patient-focused applied research to ensure breakthroughs reach patients sooner. We will bolster the science by raising greater awareness of the disease to improve survival and championing the voice of leukaemia patients."
If you'd like to nominate your cause to be our Cause of the Fortnight, please email your full name, cause name and contact details to accountmanager@easyfundraising.org.uk.