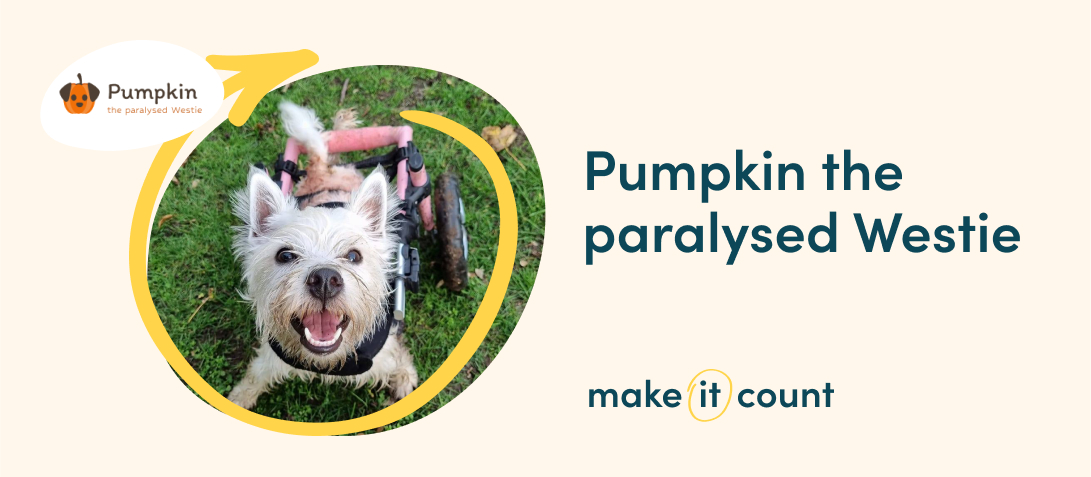 Dogs simply are one of the family.
And, when a member of the family is unwell and in need of care, we do all we can to make sure their lives are comfortable, secure, and able to be lived to the fullest. For Pumpkin the West Highland White Terrier and her family, this sentiment has never been truer.
Pumpkin – who is paralysed – is one such family member who deserves a happy and healthy life. For Pumpkin's family looking after a dog with additional needs is very much a reality – and your donations really could make all the difference in making Pumpkin's life the best it can be.
Who is Pumpkin?
Pumpkin is a one-year-old West Highland Terrier who is paralysed from the waist, its no surprise that the struggles that come with looking after a dog such as Pumpkin are vast. Pumpkin has since found a caring owner.
Like many paralysed pups, Pumpkin uses wheels to get around, and is double incontinent because of a trauma she experienced as a small puppy.
Though she be small, she is mighty – Pumpkin is 2023 Hero Dog of the Year and is a Disabled Dog ambassador (huge roles for such a little terrier!). Pumpkin also has many fundraisers and community walks all hosted in her name – including walks with blind, deaf and paralysed dogs. All proceeds are used to supply wheelchairs and specialist care to other pups like her through her registered charity Pumpkin & Friends.
Where do donations go?
The expense of Pumpkin's care and the effort that goes into giving Pumpkin the quality of life she deserves is a huge feat.
Day-to-day Pumpkin requires 15-20 nappies, as well as other sanitary care items such as wipes. All donations go towards helping Pumpkin's family buy essentials to keep her happy and healthy.
In addition, as Pumpkin is paralysed, her ability to exercise like other dogs is difficult. Although Pumpkin will live the rest of her life using her wheels, it is important that she is able to exercise as dogs do. As a result, Pumpkin has regular hydrotherapy sessions to keep her moving, and make sure she's as fit as can be.
Keeping Pumpkin healthy also requires ongoing treatment, scans and tests – and unlike us humans, dogs like Pumpkin aren't able to rely on a canine NHS. Pumpkin's family use donations to ensure Pumpkin can receive specialist vet treatment in order to keep her fighting fit.
How can easyfundraising help Pumpkin?
It is rare that a cause has such an individual focus – and with Pumpkin's appeal for donations, it is clear to see where all donations go.
By choosing Pumpkin as your chosen cause when you shop through the easyfundraising website or app, you know your shop will be helping little Pumpkin directly. All donations go towards Pumpkin's care and essentials to keep her in her prime – pink wheelchair and all!
To donate with no extra cost to you, simply choose Pumpkin's cause as your chosen charity and shop at all your favourite retailers through the easyfundraising app or website to secure your donations.