Our latest Cause of the Fortnight, where we showcase one of our causes for two weeks and highlight the impactful work they do, is Women's Aid.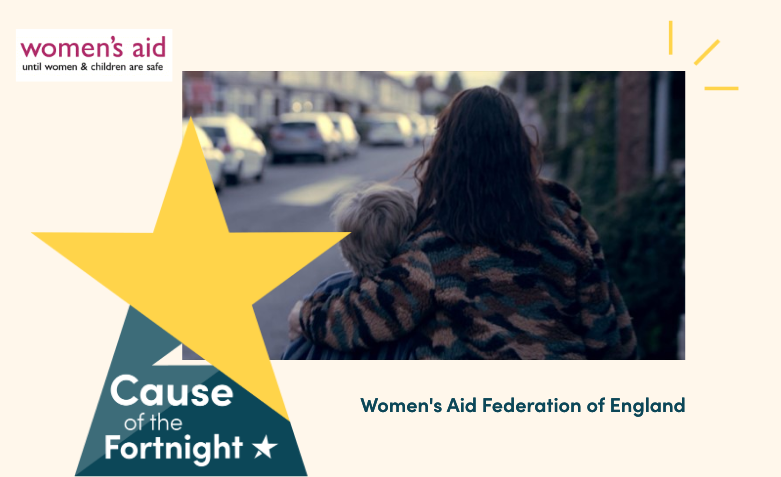 Who are Women's Aid?
Women's Aid are a national charity that have been at the heart of tackling domestic abuse for nearly 50 years. As a federation, Women's Aid is made up of over 160 member organisations that provide support, refuge and accommodation to survivors of domestic abuse and their children.
What do they do?
Women's Aid offers life-saving support through specialist online support services. Including a Live Chat service that offers confidential counselling to women and children who are currently, or have previously, experienced abuse. They ensure that survivors have somewhere to turn and can speak to someone about a life free of abuse. The charity also runs the Survivor Forum, a safe online community for survivors to share their experiences and receive peer-to-peer support.
Women's Aid Federation believe in a world where domestic abuse is no longer tolerated by anyone. They work tirelessly to generate awareness raising campaigns, lobby government and remain at the forefront of policy change; ensuring every woman has the right to equality and that her freedom from violence is unquestioned.
How do the donations help?
Women's Aid have partnered up with easyfundraising so you can raise free donations for survivors every time you shop! Over the next two weeks any free donations made through your shopping will have double the impact. Showing your support is critical now more than ever as the services Women's Aid offer are in unprecedented demand due to the current cost of living crisis, compounded by the fallout of the pandemic.
While the impact of the current cost of living crisis is being felt by society as a whole, those experiencing abuse are in particular danger. More than a third of survivors explained they were being prevented from fleeing their situation by the stark reality of not being able to support their children (50%). A further third shared they feared getting into further debt (52%), whilst 48% of women were concerned that benefits wouldn't cover increased living costs (48%).One of the most significant barriers to women escaping their abusers, is not having access to their own finances or safe housing for their children.
One survivor revealed how since the cost-of-living crisis "I have felt more isolated as I already cannot leave the home without permission. Not being able to afford activities means that I cannot leave at all." It is in this seemingly hopeless reality that access to our online support services and refuge network can be life-changing.
How can you help?
By choosing Women's Aid as your chosen cause at the checkout, you can support the millions of women and children across the UK who need your help most, and at no extra cost to you. Over the next two weeks Women's Aid will also receive £1 for every new supporter who signs up to easyfundraising! To make it easier, by downloading the donation reminder, you will never miss an opportunity to do your bit to help.
If you'd like to nominate your cause to be our Cause of the Fortnight, please join the easyfundraising community on Facebook @easyfundraisingcommunity